The Collector
November 8, 2019
---
Public Meeting Next Wednesday About Improving Broadway…
Details about the plans are sketchy so far, with public statements focused on making Broadway "easier to travel," providing "additional transportation choices," and "reducing congestion." Will this mean adding to the nightmare with more lanes and more speeding cars, or making the corridor safe and comfortable enough for walking and biking that some people might actually want to do that?
…And About McKinleyville Town Center…
On the same night as the Broadway meeting, the McKinleyville Municipal Advisory Committee will hold its first official Town Center planning meeting. This will kick off the process of developing a county ordinance which could actually move the concept of a walkable town center from long-awaited dream to legal reality.
…And About Eureka Housing Element!
Also on Wednesday night, the City of Eureka Planning Commission will be holding a hearing on the city's proposed General Plan Housing Element, a state-required document that guides the future location and amount of housing in the city. (Which of course helps determine where and how people travel.)
Changes Coming to Long-Distance Bus Service in Humboldt
A special guest post for CRTP provides the inside scoop on potential improvements to Amtrak-affiliated bus service on the North Coast.
Mobility-on-Demand Meetings Talk Transit – and Much More
At a series of meetings held by the Humboldt County Association of Governments on Thursday, attendees heard from consultants developing a "mobility-on-demand strategic development plan" for the county and provided input on priorities. The focus was on providing more convenient mobility for those with limited transportation access and bringing more riders into the existing bus system. The overall impact on the amount of driving in the county remains to be seen.
Weekly Street Story Update: Blue Lake Rancheria
People have been reporting hazards, collisions and near misses on and around the Blue Lake Rancheria. Reports are the first step to effective safety improvements! You can make your Street Story report here.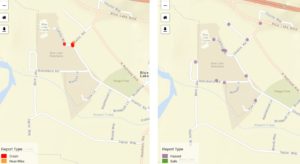 State Offering Money for "Clean Mobility"; Local Meeting Scheduled
A workshop is scheduled for November 22nd in Blue Lake to discuss a new state program that will offer grant money for "bikeshare, electric carshare, electric vanpool, and other zero-emissions shared mobility projects in disadvantaged and low-income communities around the state."
State Officials Meet in Del Norte
The press from the meeting was all about Last Chance Grade – a critical project for the regional transportation system. But state transportation commissioners also heard about the long-running attempt by Caltrans and local officials to widen and straighten Highways 199 and 197 along the Smith River to allow interstate-sized trucks to drive that winding mountain route. And they heard from local critics (which includes CRTP) who oppose the project as an unsafe boondoggle.
State Task Force Looks at Speed Limits, Road Design
Will the long and winding road to change ever lead to slower, safer streets?
---
The Collector is CRTP's weekly transportation news roundup, published every Friday. We focus on North Coast news, but we also include relevant state, national and international transportation news – plus other items that we just find kind of interesting! To submit items for consideration, email colin@transportationpriorities.org.