The Collector
December 6, 2019
---
County Proposes Impact Fee…to Build Bigger Roads
At the Board of Supervisors meeting next week, an ordinance is on the agenda to establish the Greater Eureka Area Traffic Impact Fee – the culmination of a project that began way back in 2006. We believe in developers paying their fair share for impacts they cause. But this proposed ordinance says revenues can be used ONLY for "capacity enhancing improvements" like road widening and road expansion. This would lock the county into the kind of counterproductive road planning that will just encourage more driving and increase congestion in the long run. It seems the county needs a reminder that you can't reduce congestion by building bigger roads – you've got to make it easier to walk, bike, and take the bus.
4th Street Parking Crater Plans May Be Delayed
Also on next Tuesday's Supes agenda is a staff request to delay purchase of the housing and commercial properties on 4th Street in Eureka, which the county plans to use mostly as a parking lot. The delay is attributed to unspecified "issues relating to the tenants and occupants" of the existing buildings.
County Considers 2020 Legislative Platform
Also on Tuesday's Supes agenda is a discussion of what types of state and federal bills the county should officially support next year. Lots of transportation-related issues could be affected, including infrastructure funding, the Richardson Grove road expansion project, and the Highway 101 Arcata-Eureka Corridor project. Not currently on the list: support for federal and state-level Complete Streets bills.
Town Center Planning Continues Next Week in McKinleyville
The County Planning Department and McKinleyville Municipal Advisory Committee are hosting a "Community Round Table" next Wednesday to get more input from residents on how to prioritize elements of the future Town Center Master Plan. At the last meeting, walkability was the most talked-about feature of a future town center. Come on out and make sure it stays at the top of the list!
Truckers Parade, Meet EV Parade
A new tradition starts in Blue Lake.
Weekly Street Story Update: SoHum
Most of the Street Story reports so far have come from Arcata, Eureka, and surrounding areas – because that's where most people in the county live. But there are road hazards in the rural areas, too, as residents know well. You can make your Street Story report here.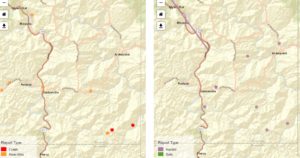 Transportation Commission to Allocate Active Transportation Funds
At next week's meeting, the California Transportation Commission will vote on funding for a long list of active transportation projects, including local projects in Blue Lake and Fortuna. Also on the agenda are cost overruns for the Panther Creek Bridge seismic retrofit project in Del Norte County and a discussion of the federal government's latest attempt to roll back fuel efficiency standards.
Wireless Charging for Electric Buses
New technologies allow electric buses to charge up during their routes, extending their ranges substantially.
New Arizona Development Won't Allow Cars
Could this be the start of a trend?
Cargo Bikes On the Rise in New York
Major shippers are signing on to use bikes for local delivery in the big city.
---
The Collector is CRTP's weekly transportation news roundup, published every Friday. We focus on North Coast news, but we also include relevant state, national and international transportation news – plus other items that we just find kind of interesting! To submit items for consideration, email colin@transportationpriorities.org.