The Collector



July 16, 2021
---
Take the Regional Transportation Plan Survey
Several draft chapters of the Humboldt County Regional Transportation Plan update are now available for public review, along with a brief survey to gather input on local residents' transportation priorities. Let them know you want better bike, pedestrian and transit systems!
New Guidelines for Arcata Transportation Improvements
CRTP Intern Jaclyn Taylor recently completed a guide for the City of Arcata to implement the recommendations from our 2020 "Elephants in the Road" report. She'll be presenting her report to the City's Transportation Safety Committee next Tuesday.
Supervisors Require Trail Easement for Mega-Grow
Perhaps surprisingly, bike and pedestrian infrastructure along Foster Avenue became a significant issue in the debate over the proposed cannabis operation in the Arcata Bottoms.
About That Climate Action Plan
It has to meet certain standards to be worthwhile, says the new Redwood Coalition for Climate and Environmental Responsibility (RCCER). The implications for our local transportation system, which is the biggest source of emissions, are enormous.
Bay to Zoo Trail Hearing Continued
The Eureka Planning Commission heard from both supporters and opponents of the trail on Monday before continuing the hearing to a future meeting. To the person who worried that children might be attacked by wildlife on this future trail through the trees: we have to respond that cars are a leading cause of death for children and adolescents, while wildlife attacks are so rare as to not even register in the statistics.
More Secondary Units on the Way
Locals are applying for more permits to build Accessory Dwelling Units ("mother-in-law" units), a low-impact way to increase density and walkability in urban areas.
---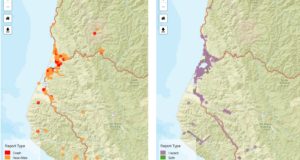 Keep Reporting Those Hazards, Crashes and Near Misses
Higher numbers of reports mean these data get taken more seriously by decision-makers. Local residents have reported 766 reports (and counting) on Street Story. La versión en español está disponible aquí. 
---
Speed Limit Bill Watered Down Even More
AB 43 is the latest in a long string of bills attempting to reform California's dangerous and nonsensical method for setting speed limits. It passed the Assembly, but State Senators are now demonstrating a shameful devotion to speed over safety and cars over people by adding one amendment after another to preserve the status quo. Recent amendments have removed the requirement for considering bike and pedestrian safety when setting speed limits, limited the ability to set speeds lower on high-injury and high-fatality roadways, made it much harder to designate a "business district" (where speeds can be slightly lower), and removed bike and pedestrian activity from the definition of a business district.
Caltrans Looks to Widen Broadway Shoulders
There will be a hearing next week at the City of Eureka. The widened shoulders should represent a minor improvement for bicyclists, but they are planned for only a few limited areas.
Affordable Electric Vehicles
Local climate activists Wendy Ring and Brian Curtis discuss the options.
Get the Latest from the Bike Commuters
You'll always learn something by reading the Humboldt Bay Bicycle Commuters Association newsletter!
Support Wildlife Crossings
Our friends at EPIC remind us that big highways aren't just dangerous to humans.
---
The Collector is CRTP's weekly transportation news roundup, published every Friday. We focus on North Coast news, but we also include relevant state, national and international transportation news – plus other items that we just find kind of interesting! To submit items for consideration, email colin@transportationpriorities.org.