The Collector



July 9, 2021
---
Bay to Zoo Trail Environmental Documents to Be Reviewed Monday
The Eureka Planning Commission will weigh in at its monthly meeting. As noted in our comment letter, CRTP strongly supports the trail. However, we do want to see a better design for the southern portion (where the route joins Dolbeer Street), some other safety improvements, and no big parking lot.
Innovative Proposals Coming for Housing on Parking Lots
A new Wiyot-led land trust wants to build elder and family housing on some of Eureka's city-owned lots.
Arcata Wants Input on Infill Plans
Take their survey and show your support for dense, walkable infill development! En español aquí.
Final McKinleyville Transit Study Report Available
Next step: implementing transit improvements!
---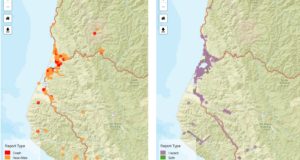 Keep Reporting Those Hazards, Crashes and Near Misses
Higher numbers of reports mean these data get taken more seriously by decision-makers. Local residents have reported 766 reports (and counting) on Street Story. La versión en español está disponible aquí. 
---
State Allocates Initial $16.5 Million for Great Redwood Trail
The funding will go primarily toward creating a master plan for the trail.
Pandemic Exacerbates Traffic Safety Inequities for Black Americans
Amid soaring traffic fatality rates in 2020, Black Americans experienced a disproportionate impact.
$10 Million in State Budget for E-Bike Incentives
It may get more affordable to buy an e-bike in California in the coming years!
Want More Transit Riders? Try Better Services & Cheaper Fares!
The San Francisco Bay Ferry is making a bet that it can attract riders with new investments in service, rather than cut-backs.
Transportation-Related Bills Watered Down by Amendments
Sunset provisions were added to the bike safety-stop bill (2028) and the jaywalking decriminalization bill (2029), which means more legislative battles in the future if the bills are signed into law. Meanwhile, the bill eliminating minimum parking requirements for housing near transit was amended to make it apply only to large urban cities and counties – dashing our hopes for state-level reforms that would apply to the North Coast.
---
The Collector is CRTP's weekly transportation news roundup, published every Friday. We focus on North Coast news, but we also include relevant state, national and international transportation news – plus other items that we just find kind of interesting! To submit items for consideration, email colin@transportationpriorities.org.