The Collector



June 25, 2021
Editor's Note: The Collector will be taking a summer break next week. But never fear, it will be back in your inbox soon!
---
Eureka Working on Economic Development Plan
We hope city leaders remember that walkability, bikeability, and good public transit are all key contributors to local economic vitality.
Trinidad Seeking Input on Local Road Safety Plan
Be like Bigfoot and mark your concerns and suggestions on the interactive map.
---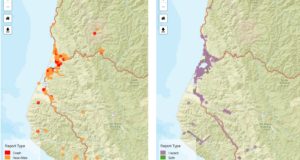 Keep Reporting Those Hazards, Crashes and Near Misses
Higher numbers of reports mean these data get taken more seriously by decision-makers. Local residents have reported 766 reports (and counting) on Street Story. La versión en español está disponible aquí. 
---
Light Sentence in McKinleyville Vehicular Manslaughter Case
We're not in favor of harsh penalties for their own sake, but we think it's telling how leniently the courts treat people who kill other people with their cars. As the prosecutor said, "We do have a duty to pedestrians to be driving in a careful manner." Our thoughts are with the family and friends of Clinton Deckert.
EV Chargers Coming to McKinleyville Airport
Supervisors approved an agreement with the Redwood Coast Energy Authority this week.
High Tides Give Another Preview of Sea Level Rise
Several roads around Humboldt Bay are at risk of flooding.
Could Dining in Parking Spaces Be Here to Stay?
Some of the pandemic-related conversions of outdoor space may become permanent. As Eureka Public Works Director Brian Gerving says, "there isn't really much of a parking problem" around here. So why not put those areas to a more productive use?
Increased Focus on Mobile Vaccination Clinics
The need for mobile clinics highlights the importance of physical access to healthcare, which depends largely on land use patterns and transportation infrastructure.
Bike-Related Bills Moving Along in the Legislature
Check out CalBike's handy summary.
No More Short Plane Trips in France
If it's easy to get there by train, you won't be able to hop on a plane. The new rule will save a LOT of greenhouse gas emissions.
Horrific Crash Injures Many People Riding Bikes in Arizona
The driver plowed into the victims with a big Ford pick-up truck. In a dark irony, the local Ford dealership was a sponsor of the road race where the tragedy occurred.
---
The Collector is CRTP's weekly transportation news roundup, published every Friday. We focus on North Coast news, but we also include relevant state, national and international transportation news – plus other items that we just find kind of interesting! To submit items for consideration, email colin@transportationpriorities.org.