The Collector



June 18, 2021
---
HCAOG Board Approves Transit Grant Application
The Association of Governments will join the Humboldt Transit Authority, Redwood Coast Energy Authority, Schatz Energy Research Center, and several private companies in the bid for federal funds to study how to transition rural transit fleets to zero-emission vehicles. One of the leading technological contenders for that transition is hydrogen fuel-cell buses, and the US Department of Energy just announced that securing a supply of affordable "green" hydrogen is one of its major initiatives.
Last Week to Submit Comments on McKinleyville Transit Study!
Review the draft report and submit comments on the project website. Or just take the brief survey (en español aquí) – it takes less than 5 minutes! The last day for comments is next Friday, June 25th.
Next Round of Affordable Housing on Parking Lots Advances in Eureka
CRTP strongly supports these projects. Unfortunately, despite our feedback, the program still currently includes a requirement to preserve most of the existing parking spaces. That will reduce the number of possible housing units and make it more expensive to build – all to continue an unneeded subsidy for drivers. Meanwhile, the other big transportation item on the city calendar for this week – the Planning Commission hearing on the Bay-to-Zoo Trail – was canceled due to the lack of a quorum.
Take a Walking Tour of Arcata's "Gateway District" Tomorrow
New plans for walkable infill development are being made for the "Gateway District," which largely overlaps with the Creamery District.
County Budget Hearing on Monday
It's local government budget season, and as always a large chunk of local budgets go to transportation infrastructure. However, most of that money goes toward maintaining the existing sprawling road network, rather than safety or multimodal improvements.
EPIC Petition to Pete Buttigieg on Richardson Grove
Opponents of the highway expansion project are going straight to the top with the latest call to action.
Local Project Delays Go to State Transportation Commission
At next week's meeting, the Commission will vote on allowing delays for the Bay Trail South (due to difficulties purchasing the needed right-of-way), as well as for the safety-related shoulder widening on southern Central Avenue in McKinleyville and the Manila shared use path. As always, the Commission will consider a variety of other local projects, including allocating funds for a McKinleyville Safe Routes to School Project.
War of Words Continues Over Proposed Bayside Roundabout
The public argument seems to have devolved into a choice between increased traffic enforcement and a roundabout. We say: how about a pedestrian-friendly intersection and some traffic calming instead?
---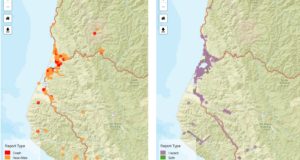 Have You Reported All Hazards, Crashes and Near Misses on Street Story Yet?
Higher numbers of reports mean these data get taken more seriously by decision-makers. Local residents have reported 765 reports (and counting) on Street Story. La versión en español está disponible aquí. 
---
Bigger Pickup Trucks Are Killing Us
Consumer Reports is the latest organization to investigate.
New Bill Would Increase Funding for Rural Transit
And urban transit too!
Better Streets, Better Media Coverage
When local governments prioritize pedestrian safety, reporters notice.
Are Supersonic Planes Really Coming Back?
For the planet's sake, let's hope not.
---
The Collector is CRTP's weekly transportation news roundup, published every Friday. We focus on North Coast news, but we also include relevant state, national and international transportation news – plus other items that we just find kind of interesting! To submit items for consideration, email colin@transportationpriorities.org.