The Collector



June 11, 2021
---
Another Problem with Traffic Stops
It probably went unnoticed by most readers of this North Coast Journal article, but at least two of the alleged assaults by Sergeant Jason Daniels occurred at traffic stops. Over the last year, more attention has been paid to the vulnerability of people of color to police officers during traffic stops. This local case highlights the vulnerability of women – and potentially all people – to sexual assault during these same encounters. We should all think twice before calling for more law enforcement as a solution to our traffic problems.
Eureka City Council to Approve New Housing-on-Parking-Lots Plan
The latest batch of city-owned parking lots proposed to be turned into affordable housing has changed due to opposition from some business owners and neighbors. Regardless, CRTP is fully on board with turning excess car storage into much-needed housing for people – especially in walkable downtown neighborhoods.
Bay-to-Zoo Trail Environmental Documents Up for Review by Eureka Planning Commission
As noted in our comment letter, we strongly support the trail. However, we do want to see a better design for the southern portion (where the route joins Dolbeer Street), some other safety improvements, and no big parking lot.
Ride the Bus Free in Arcata This Month!
Grab a mask and get back on the bus.
The Kind of Process We Want from Caltrans
With a transparent, inclusive and deliberative process from the start, environmentalists are working well with Caltrans on the Last Chance Grade project.
County, Caltrans Agree to Wetland Mitigation for Bay Trail
Another step toward completing the final four miles between Arcata and Eureka!
McKinleyville Transit Study Presentation to HCAOG Board
This will be the final public presentation on the draft report before public comment ends on June 25th. You can also check out the full draft report and submit comments on the project website. Or fill out the brief survey (en español aquí).
---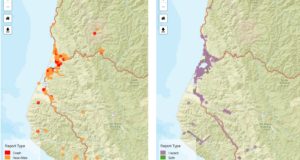 Seriously, Report Hazards on Street Story
Higher numbers of reports mean these data get taken more seriously by decision-makers. Local residents have reported 764 reports (and counting) on Street Story. La versión en español está disponible aquí. 
---
15-Minute Cities
A new bill could make "15-minute cities" a planning standard in California, and generally we think that's a really good idea. But it's important that we don't leave certain people behind with a focus on speed of travel.
The Bikeshare "Poison Pill" Is Back
A bill that passed the state Assembly would put an onerous liability burden on operators of bike- and scooter-sharing systems.
New Report: We Need a Lot More EV Charging Stations in California
So what are we going to do about it?
Bipartisan Bill Would Remove Environmental Protections for Transportation Projects
Apparently both parties in Congress can agree that building more car infrastructure is just too important to let pesky environmental concerns get in the way.
New Infrastructure Proposal Sticks to "Traditional Infrastructure"
Make no mistake, "traditional infrastructure" doesn't just mean no funding for fighting climate change – it also means we'll be building more roads for cars and trucks that spew even more climate-harming emissions.
---
The Collector is CRTP's weekly transportation news roundup, published every Friday. We focus on North Coast news, but we also include relevant state, national and international transportation news – plus other items that we just find kind of interesting! To submit items for consideration, email colin@transportationpriorities.org.