The Collector



June 4, 2021
---
Talk on Monday About Humboldt Bay Sea Level Rise
We have the highest rate of sea level rise on the West Coast, and a lot of transportation infrastructure is at risk. CRTP is co-sponsoring this talk by local sea level rise expert Aldaron Laird about the current status of local sea level rise science and response efforts.
Public Meeting Next Thursday on Draft McKinleyville Transit Study Report
Register by clicking the link above. Or check out the full draft report and submit comments on the project website. Or fill out the brief survey (en español aquí). Just let us know what you think one way or another!

More Opponents of the Richardson Grove Project
Add Save the Redwoods League and local tribal organizations to the long list of opponents of the highway-expansion project (including CRTP).
Arkley Threatens to Sue Over Housing on Parking Lots
Eureka's own arch-conservative business mogul is unhappy about the city's plan to build much-needed affordable housing on city-owned parking lots, though we're not exactly sure why.
Eureka Council Talks Road Projects and Funding
Ultimately, they voted to spend this particular money on repaving projects. But Councilmember Leslie Castellano did suggest that they should consider using some of it on bike and pedestrian improvements.
New Bikeshare Program Debuts in Arcata
Since Zagster folded last year, the area has been without a bikeshare system. But no more! The new system is branded Humboldt Bikeshare and is pretty darn affordable.
Arcata Transportation Committee Has a New Member
On Wednesday, the City Council appointed local planner Misael Ramos Carrasco to the committee, which now has a full complement of members. Next up: filling the vacant spots on Eureka's Transportation Safety Commission!
More People Think We Should Build Housing on the Bayshore Mall Site
We would add: even if the mall stays, there's a lot of extra parking that could be put to better use.
---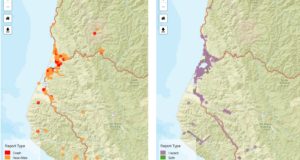 Make your Street Story reports!
Local residents have reported 764 reports (and counting) on Street Story. La versión en español está disponible aquí. CRTP uses reports to advocate for change, and local agencies use them to apply for grants and prioritize improvements. Your reports are important!
---
Important Transportation Bills Pass Assembly
AB 117, the e-bike subsidy bill, and AB 1238, the Freedom to Walk Act, are both now awaiting action in the state Senate. (We apologize for misreading the legislative history and previously reporting that these bills had been sent to suspense.) Also SB 69, the Great Redwood Trail Agency bill, unanimously passed the Senate and now heads to the Assembly.
Pedestrian Fatalities Rose Again in 2020
The long tragedy continues to unfold.
New York Could Require Pedestrian Safety Ratings on New Cars
Why don't we have these already?
US Senate Committee Passes New Transportation Bill
It mostly follows the same broken formulas as transportation bills of the past, albeit with some nicer window dressing.
---
The Collector is CRTP's weekly transportation news roundup, published every Friday. We focus on North Coast news, but we also include relevant state, national and international transportation news – plus other items that we just find kind of interesting! To submit items for consideration, email colin@transportationpriorities.org.