The Collector



May 28, 2021
---
E-Scooters, Transit, Millions of Dollars, and More
"Technical Advisory Committee" might sound boring, but next week's agenda for this quiet but influential Humboldt County Association of Governments (HCAOG) committee is anything but. The committee will get a presentation from the e-scooter company Bird about its interest in operating in Humboldt, hear the annual Unmet Transit Needs report and a presentation about the McKinleyville Transit Study (see below), make recommendations about newly available Coronavirus relief funding, and consider a draft of the first-ever Regional Transportation Plan "land use-transportation element." And that's not even all of it!
McKinleyville Transit Study Draft Report Available for Review
The report calls for piloting an on-demand micro-transit system as a first step toward improving public transportation in McKinleyville. Take the survey (en español aquí) or provide any other comments by June 25th. There will also be public presentations at next week's Humboldt County Association of Governments Technical Advisory Committee and Social Services Transportation Advisory Council meetings.
CRTP & Allies Comment on Nordic AquaFarms Environmental Documents
We asked for a full Environmental Impact Report, and we got it. We're happy about that, and ready for the next phase of analysis.
Eureka City Council to Vote on How to Spend SB1 Money
SB1 created, among other things, the Road Maintenance and Rehabilitation Account, from which the city expects to receive about half a million dollars next year. They plan to spend it on repaving parts of Washington and E Streets. But this money could be spent instead on critical safety projects, including bike and pedestrian infrastructure. Maybe it's just us, but we think that's a little more important than repaving, given Eureka's traffic safety crisis.
Humboldt County Wants to Hear from You About Sea Level Rise
Critical transportation infrastructure is at risk, especially around Humboldt Bay.
---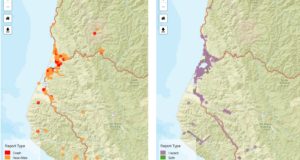 Make your Street Story reports!
Local residents have reported 763 reports (and counting) on Street Story. La versión en español está disponible aquí. CRTP uses reports to advocate for change, and local agencies use them to apply for grants and prioritize improvements. Your reports are important!
---
Bike Supply Chains Still Struggling to Meet Demand
It's a good sign that demand is still high this far into the pandemic.
Will That Electric F-150 Save Us?
Despite some fawning press coverage, let's not forget that it's still an oversized pedestrian-killing machine.
The "CalBike Insider"
Ever wonder what's really going on in Sacramento? This new feature from CalBike provides some behind-the-scenes insights into transportation politicking in the state capital.
The New York Times Talks Urban Highway Removal
Planners are beginning to realize that it's better to build cities that are nice to live in than ones that are convenient for suburban commuters to get in and out of.
Environmentalists Ask for Habitat Connectivity Money in Transportation Budget
Streets and highways have a huge impact on wildlife populations.
---
The Collector is CRTP's weekly transportation news roundup, published every Friday. We focus on North Coast news, but we also include relevant state, national and international transportation news – plus other items that we just find kind of interesting! To submit items for consideration, email colin@transportationpriorities.org.