The Collector



May 21, 2021
---
Humboldt Supervisors Support a "Qualified" Climate Action Plan
"Qualified," in this case, is a good thing. It means that the Plan will meet state greenhouse gas reduction targets and require monitoring and updates to ensure the targets are met. Since transportation is the county's biggest source of emissions, this would mean major changes for our local transportation system.
New, More Political Environmental Group Debuts on the North Coast
The Redwood Coalition for Climate and Environmental Responsibility (RCCER, or "rocker") is not a non-profit, so it can do political work that other groups (including CRTP) can't. Its mission is "to ensure that local elected officials and government agencies on California's North Coast take robust, just, and equitable actions to address the climate crisis and other key environmental issues."
Deadline Approaching for Comment on Fish Farm Environmental Documents
When does a fish farm relate to transportation? When it generates 95 trucks trips per week and has 150 commuting employees. CRTP has teamed up with other local environmental groups to provide detailed comments on the project's impacts. You should have your say too! You can find out more on last week's EcoNews Report.
Arcata to Get More Public Input on Old Arcata Road Project
It appears the project is headed for a full Environmental Impact Report.
McKinleyville Municipal Advisory Committee to Hear Transit Study Update
The draft transit study report is expected to be released before the meeting next Wednesday.
Arcata Transportation & Energy Committee to Hold Annual Joint Meeting
The meeting will focus on the current Regional Transportation Plan update process, presumably with discussion focusing on proposed greenhouse gas and vehicle miles traveled reduction targets.
---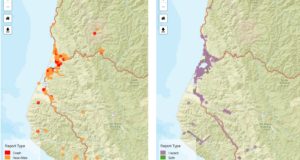 Make your Street Story reports!
Local residents have reported 761 reports (and counting) on Street Story. La versión en español está disponible aquí. CRTP uses reports to advocate for change, and local agencies use them to apply for grants and prioritize improvements. Your reports are important!
---
A Busy Week Killing Bills in the Legislature
This week was when we found out which bills were sent to the notorious "suspense file" – where bills go to die. Bills that received that fate include the decriminalize-jaywalking Freedom to Walk Act, the e-bike subsidy bill, the session's main pro-housing density bill, and a bill that would pilot programs to make it easier to lower speed limits. Fortunately, SB 69, the bill to create the Great Redwood Trail Agency, survived the bloodbath.
This is Global Road Safety Week
Among other things, the United Nations is circulating an open letter calling for speed limits of 30 km/hr (20 mph) "on streets where people walk, live and play."
Air Resources Board Set to Mandate Electric Uber & Lyft Vehicles
But who will pay for it – the companies or their "independent" drivers?
---
The Collector is CRTP's weekly transportation news roundup, published every Friday. We focus on North Coast news, but we also include relevant state, national and international transportation news – plus other items that we just find kind of interesting! To submit items for consideration, email colin@transportationpriorities.org.