The Collector



May 14, 2021
---
A Contested Vote to Support Railbanking
Despite the fact that by all indications the Great Redwood Trail is a wildly popular idea, and it relies on railbanking of the North Coast Railroad Authority right-of-way, the vote to express support for railbanking was closely contested and barely passed. It appears that a new wave of property-rights activism in rural parts of the county may be the reason this routine letter of support suddenly became controversial. Several other local agencies are considering letters of support next week.
Update on 101 Safety Corridor Project
Caltrans will provide a report on the project at Thursday's Humboldt County Association of Governments meeting. CRTP has learned that the project is currently "out to bid" – meaning construction can be expected before long.
New Report on Adapting Humboldt's Trail System to Sea Level Rise
The report was produced by Humboldt State students for CRTP and Humboldt Baykeeper. It calls for long-term planning and collaboration to ensure a resilient trail system and encourage more active transportation.
Even More Bike Month!
This Sunday is the Eureka Bike Scavenger Hunt. Then on Monday is a Virtual Bike Skills Workshop, and Thursday is officially Bike to Wherever Day. And don't forget about Bike Bingo!
EPIC & Tribes Call on Caltrans to Cancel Richardson Grove Project
The new statement on an old project brings tribal concerns to the forefront.
Arcata Council to Consider Old Arcata Road Project
Next week, the City Council will consider the long-planned project's environmental documents and hear public input. The project includes much-needed bike and pedestrian improvements which CRTP fully supports, as well as a roundabout – which is car-oriented design that we're not so excited about.
Register for the 2021 Humboldt Trails Summit
It's just a few weeks away!
---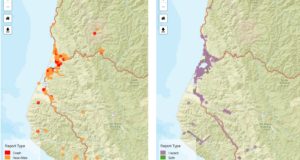 Make your Street Story reports!
Local residents have reported 761 reports (and counting) on Street Story. La versión en español está disponible aquí. CRTP uses reports to advocate for change, and local agencies use them to apply for grants and prioritize improvements. Your reports are important!
---
Last Chance to Tell Pete Buttigieg to Reform the Federal Traffic Manual
It's quick and easy using the template provided by America Walks. And the deadline is midnight tonight!
How Should Local Bike Safety Be Measured?
Traditionally, collisions are compared to local population. A new report instead compares them to local bike miles traveled (BMT), with some surprising results.
COVID "Slow Streets" Were Great for Business
Many towns and cities are now making these vehicle-restricted streets a permanent fixture. Unfortunately, none of our local communities took this step over the last year.
---
The Collector is CRTP's weekly transportation news roundup, published every Friday. We focus on North Coast news, but we also include relevant state, national and international transportation news – plus other items that we just find kind of interesting! To submit items for consideration, email colin@transportationpriorities.org.