The Collector



May 7, 2021
---
More City-Owned Parking Lots Slated for Affordable Housing
Following up on its success attracting the Linc Housing project last year, Eureka is preparing this year to ask developers to build housing on another 3 city-owned lots in the downtown area. At community meetings this week, a lot of business owners complained that this isn't the right place for such housing, because the demand for car storage is too high. CRTP believes strongly that the fact that downtown is a busy area with lots of businesses and other destinations is exactly why it's the right place for new housing. Although we are also intrigued at the possibility of redevelopment of the Bayshore Mall parking lot, a suggestion made by a few community members at these meetings.
Bike Month Continues!
Next week there's a Friendly Driver webinar, which teaches you how to keep walkers, bikers and rollers safe when you're behind the wheel. Find out more about Bike Month on the latest EcoNews Report, and keep logging those rides and playing Bike Bingo!
New E-Bike/E-Scooter Sharing Company Coming to Humboldt?
At this week's Technical Advisory Committee meeting for the Humboldt County Association of Governments, representatives of Arcata and Fortuna revealed that they have been approached by Bird, one of the giants in the dockless e-scooter/e-bike sharing industry, with interest in setting up shop in Humboldt. We'll bring you more details when we get them…
Humboldt Transit Authority Moving Toward Zero Emission Buses
This week the Board authorized staff to apply for grants to fund new buses – likely electric for in-town routes and hydrogen fuel-cell buses for longer routes. At the same meeting, the Board approved discounted bus passes for a bulk purchase by Linc Housing, which will provide them for free to its future tenants in Eureka.
Speaking of Linc Housing…
Next week, the nonprofit affordable housing developer will hold another community meeting to share which bike, pedestrian and transit improvements it will be applying to include in its Eureka project.
A Rare Arrest in a Vehicle-Pedestrian Crash
We are grateful that the victim's injuries are only "moderate." Charges were also filed this week in a separate pedestrian hit-and-run incident. Is the Eureka Police Department getting more aggressive in pursuing drivers in pedestrian-related crashes?
New Pedal-Powered Business Opens in Arcata
Just another cool use for the incredible machine we call the bicycle.
---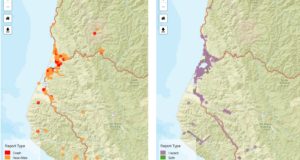 Make your Street Story reports!
Local residents have reported 760 reports (and counting) on Street Story. La versión en español está disponible aquí. CRTP uses reports to advocate for change, and local agencies use them to apply for grants and prioritize improvements. Your reports are important!
---
State Transportation Commission to Approve $58 Million for Safety Corridor Project
The funding allocation is a sign that construction of the long-planned changes to the Arcata-Eureka Highway 101 corridor is getting closer. Also at next week's meeting, the Commission will consider requests to delay active transportation improvement projects in Arcata and Blue Lake.
What's It Like to Be a Driver Who Kills a Pedestrian?
We don't normally look at these crashes from the driver's perspective, but this podcast is really worth a listen.
How Can Bikeshare Programs Be More Equitable?
They've got to make it a priority.
More on the Fight Over the Federal Traffic Manual
Supporters of the auto-centric manual are portraying themselves as the victims of a "cancel culture" attempt to overhaul it. We agree with former Seattle Mayor Mike McGinn, who responded: "I thought the victims were the people getting killed on the streets."
---
The Collector is CRTP's weekly transportation news roundup, published every Friday. We focus on North Coast news, but we also include relevant state, national and international transportation news – plus other items that we just find kind of interesting! To submit items for consideration, email colin@transportationpriorities.org.