The Collector



April 30, 2021
---
Transportation Survey Results Released
CRTP has just released the results of our Humboldt County transportation attitudes survey. The 128 respondents represented a broad demographic and geographical cross-section of Humboldt County, and along with overall findings we looked at results related to community of residence, age, gender, disability, income, and race/ethnicity. Perhaps the most striking finding is that people overwhelmingly want to drive less and walk, bike, and/or take the bus more.
Bike Month Starts Tomorrow!
It's Bike Month again in Humboldt County. Check out the calendar of events here, and play along with Bike Month Bingo too! We also encourage everyone to pick up a Bike Month Humboldt temporary "bike plate" to put on your bike this month to show support – available at most local bike shops and city halls.
Take the Survey on Eureka Transportation Improvements
Linc Housing, the non-profit behind the three new affordable housing projects planned for Eureka city-owned parking lots, is looking for public feedback on potential bike, pedestrian and transit improvements to go with the new housing.
Committee to Consider First Drafts of Regional Transportation Plan Elements
Next week, the Humboldt County Association of Governments (HCAOG) Technical Advisory Committee will review early drafts of the Active Transportation and Commercial & Industrial Transportation Elements for the new Regional Transportation Plan update. This is the first public preview of how HCAOG will incorporate its new greenhouse gas and driving reduction goals into this critical plan.
Eureka City Council to Adopt Traffic Safety as Strategic Goal
It's one of five goal areas identified by the Council in its recent strategic planning process. At the same meeting next week, the Council will hear a report on the inter-agency Climate Action Plan currently under development in the county.
Speaking of Climate Action and Regional Transportation Plans…
Check out CRTP's article in the most recent issue of the EcoNews to find out just how important these two plans will be.
---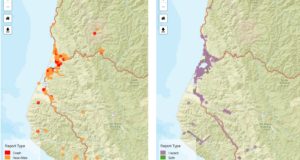 Make your Street Story reports!
Local residents have reported 758 reports (and counting) on Street Story. La versión en español está disponible aquí. CRTP uses reports to advocate for change, and local agencies use them to apply for grants and prioritize improvements. Your reports are important!
---
Speed Hump Hurdles
The Humboldt County Board of Supervisors held a hearing this week on whether to allow two speed humps to be installed near Bridgeville School on Kneeland Road. The fact that a public hearing had to be conducted just to install some very basic traffic safety infrastructure in a school zone shows just how difficult the county's policies make it to do anything that might slow down cars and trucks.
Check Out Our Comments on the Bay-to-Zoo Trail
We strongly support this project – but there are still important improvements to be made.
Last Chance Grade Alternatives Down to Two
Caltrans announced this week that the only two options it's still considering are permanently shoring up the existing highway route or building a major tunnel. Thankfully, these are also the two least environmentally damaging of the options formerly under consideration.
Assembly Transportation Committee Passes Freedom to Walk Act
Could this be the first step toward restoring pedestrians' right to the road? Also this week, the bill to allow more density in single-family zoning districts passed another committee – which could be the first step toward developing more walkable land use patterns in many parts of the state.
Florida Wants to Build Hundreds of Miles of New Freeways
What century is Florida living in?
---
The Collector is CRTP's weekly transportation news roundup, published every Friday. We focus on North Coast news, but we also include relevant state, national and international transportation news – plus other items that we just find kind of interesting! To submit items for consideration, email colin@transportationpriorities.org.