The Collector



April 23, 2021
---
McKinleyville Transit Study Update Next Week
The draft report will be released for public comment very soon! Get the most current information at next Wednesday's McKinleyville Municipal Advisory Committee meeting.
Public Meeting on Eureka Affordable Housing Project Next Week
On Thursday, Linc Housing will hold a meeting to hear from the public about active transportation, transit and other amenities that could be included in its three new affordable apartment buildings to be constructed on city-owned parking lots. CRTP strongly supports this project, which recently became controversial when the city's Planning Commission Chair quit in a huff over the fact that the project is actually allowed under the city's new land use codes.
Two More Serious Pedestrian Crashes in Eureka This Week
After the hit-and-run on Wabash on Sunday, a semi-truck driver hit a pedestrian on Broadway on Wednesday. Both victims are in serious condition as of the latest reports.
Arcata to Get New Wayfinding Signs for Pedestrians
The "semi-permanent" signs will be installed as part of an HSU student project trying to enhance connections between campus and other parts of town.
Traffic Safety Snubbed by Measure Z Funds
Despite the fact that far more people in Humboldt County die in vehicle crashes than in other criminal acts, the Board of Supervisors continued the trend this week of allocating lots of Measure Z "public safety" funds to law enforcement and none to road safety. The lone street safety project under consideration, a traffic light on F Street in Eureka, was ranked too low by the advisory committee to receive funding.
Humboldt Supervisors Worried About New State Fire Safety Regulations
Why is this a transportation issue? By limiting development in fire-prone areas through increasingly stringent road standards, the new rules could substantially impact rural land use and transportation patterns.
---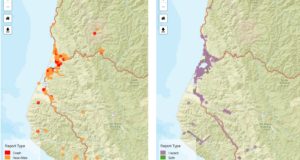 Make your Street Story reports!
Local residents have reported 757 reports (and counting) on Street Story. La versión en español está disponible aquí. CRTP uses reports to advocate for change, and local agencies use them to apply for grants and prioritize improvements. Your reports are important!
---
Bike Safety Stop Bill Passes Assembly
If it passes the Senate and is signed by the Governor, California residents on bikes will join those of many other states in being able to lawfully roll through stop signs when conditions are safe. Research has consistently shown the rolling stop – a.k.a. safety stop, a.k.a. "Idaho stop" – to be safer than requiring people on bikes to come to a full stop and then start again.
Will People Keep Working from Home After the Pandemic?
Some new data from a survey of California commuters adds to the speculation.
Republican State Legislatures Absolve Drivers Who Hit Protesters
It's already hard to hold drivers accountable. The new laws practically declare open season on pedestrians, as long as they're protesting for social justice.
Green New Deal for Cities?
With a new bill, progressive leaders in Congress are acknowledging the critical role local governments must play in addressing the climate crisis through transportation infrastructure and other investments.
Putting Infrastructure Thinking in Reverse
We need to build a lot of new bike lanes, sidewalks, and transit – but removing auto-oriented infrastructure might be an easier and even more effective way of fighting climate chaos.
---
The Collector is CRTP's weekly transportation news roundup, published every Friday. We focus on North Coast news, but we also include relevant state, national and international transportation news – plus other items that we just find kind of interesting! To submit items for consideration, email colin@transportationpriorities.org.