The Collector



April 16, 2021
---
CRTP Weighs in On State Climate & Transportation Infrastructure Plan, Federal Traffic Control Manual
Check out what we had to say about the draft Climate Action Plan for Transportation Infrastructure and the "notorious MUTCD." Comment periods for both documents are still open, so you can submit your comments too! Find instructions here and here.
Humboldt County Overwhelmed with Junked Vehicles
It's a problem second only to cannabis for the code enforcement team, and an impact of our society's addiction to cars that usually doesn't get much attention.
Bike Month is Back!
Get a sneak preview in the latest edition of the Humboldt Bay Bicycle Commuters Association newsletter.
Redwood Way to Get Pedestrian Improvements
Sidewalks! What a nice idea.
4-Mile Run/Walk/Roll This Weekend to Remember David Josiah Lawson
Charmaine Lawson points out the benefits of active transportation for a healthy community.
---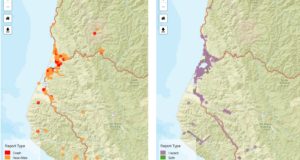 Make your Street Story reports!
Local residents have reported 752 reports (and counting) on Street Story. La versión en español está disponible aquí. CRTP uses reports to advocate for change, and local agencies use them to apply for grants and prioritize improvements. Your reports are important!
---
Bike "Safety Stop" Bill Passes First Committee
Other bills passing out of committee this week include SB 9, which would dramatically increase allowable housing densities in many areas, and AB 1401, which would bar local governments from imposing minimum parking requirements on developments within 1/2 mile of a major transit route. (Unfortunately for us, there are currently no major transit routes on the North Coast.)
The New Phenomenon of Climate Gentrification
Wealthy homeowners fleeing sea level rise, wildfires, and other climate-driven disasters may drive up rents in some low-income areas.
---
The Collector is CRTP's weekly transportation news roundup, published every Friday. We focus on North Coast news, but we also include relevant state, national and international transportation news – plus other items that we just find kind of interesting! To submit items for consideration, email colin@transportationpriorities.org.