The Collector



July 23, 2021
---
Arcata Considers New Parking Meter System
This week, the City Council heard a presentation about a new mobile-pay parking meter system that could be retrofitted onto existing meters. Apparently, the system could allow for dynamic pricing – rates that vary over time according to demand, reducing the subsidy for driving and leaving enough free spaces to prevent "cruising for parking."
New McKinleyville Town Center Plans Released
The Humboldt County Planning Department and its consultant, local architect Kash Boodjeh, have released new conceptual land use plans and street designs for Hiller and Central Avenues. The new draft plans call for a denser, mixed-use core, surrounded by slightly less dense mixed-use and multi-family residential areas. Street designs would add traffic calming features and substantial bike and pedestrian infrastructure. CRTP has worked hard for the past few years to encourage this kind of Town Center, and we're pleased with the progress that's been made. The plans will be discussed at next Wednesday's meeting of the McKinleyville Municipal Advisory Committee.
Hear from Arcata City Council Candidates
Next Wednesday at 6 pm, the seven candidates for the newly vacant Arcata City Council seat will participate in a public forum. Questions can be submitted ahead of time. Several of the candidates mention transportation issues in their statements.
A Memorial for People Killed by Cars
Mark your calendars for Friday, August 27th. This will be a gathering for friends and families to remember those who have been killed by cars while walking, biking or rolling in Humboldt County, and for community members to acknowledge and honor the losses.
Huffman Champions Hammond Trail Bridge Replacement Funding
It's one of his proposed earmarks for the next fiscal year. This critical bike-pedestrian linkage has needed replacement for years.
---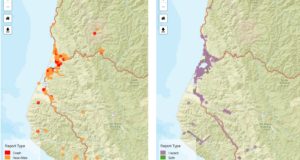 Keep Reporting Those Hazards, Crashes and Near Misses
Higher numbers of reports mean these data get taken more seriously by decision-makers. Local residents have reported 768 reports (and counting) on Street Story. La versión en español está disponible aquí. 
---
Want to Have a Say On California's Vehicle Emissions Rules?
The Air Resources Board has scheduled a scoping workshop on August 11th for the development of new regulations.
What's Going On With the Federal Infrastructure Bill?
Get the inside scoop from America Walks.
US Department of Transportation Focuses on Freight Issues
We always get a little suspicious when the word "congestion" gets bandied about.
---
The Collector is CRTP's weekly transportation news roundup, published every Friday. We focus on North Coast news, but we also include relevant state, national and international transportation news – plus other items that we just find kind of interesting! To submit items for consideration, email colin@transportationpriorities.org.