The Collector



July 30, 2021
---
McKinleyville Active Transportation Study Gets Underway
Fill out the survey here (en español aquí), and mark your calendars for walking tours on August 16th and an online community meeting on August 23rd.
Local Housing is Unaffordable
The future of the local housing market is also uncertain, not least because of Humboldt State University's plan to attract thousands more students with its polytechnic designation. As readers of The Collector know, the availability, affordability, location and design of housing are some of the most significant factors in determining people's transportation behaviors. And when the location of housing is far from jobs and services, transportation costs can be very high, too.
R.I.P. Charlie Bean
We mourn the loss of this committed advocate for accessibility in all areas, including transportation.
Eureka Planning Commission to Hold Bay-to-Zoo Trail Study Session
Head on down to City Hall on Thursday (yes, it's in person) to find out more about the trail plans, voice your support, and weigh in on the issues.
---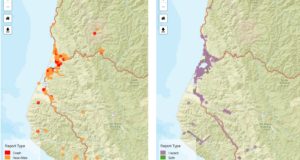 Keep Reporting Those Hazards, Crashes and Near Misses
Higher numbers of reports mean these data get taken more seriously by decision-makers. Local residents have reported 768 reports (and counting) on Street Story. La versión en español está disponible aquí. 
---
Meredith Matthews Is New Arcata City Councilmember
She was appointed at the candidate forum on Wednesday, and you can bet there was some transportation talk at that event.
Delta Variant Can't Stop Annual Celebration of Cars
Every year we wonder how such dangerous, polluting machines are the source of such devotion and merriment.
Law Enforcement Doesn't Stop Fatal Crashes
More traffic enforcement is often proposed as a solution for dangerous streets. It turns out that doesn't really work.
Bipartian Infrastructure Deal Doubles Down on Cars
Oh, there's transit funding in there – but there's a LOT more for cars.
Another Prominent Person Killed While Riding a Bike
While celebrities may be less likely to be victim-blamed, they're still subjected to the usual car-culture biases of media coverage.
---
The Collector is CRTP's weekly transportation news roundup, published every Friday. We focus on North Coast news, but we also include relevant state, national and international transportation news – plus other items that we just find kind of interesting! To submit items for consideration, email colin@transportationpriorities.org.