The Collector



August 6, 2021
---
Humboldt Planning Commission Approves Permits for Bay Trail South
The project faces a few additional hurdles, include a permit from the Coastal Commission, but is getting closer and closer to construction. When it's done, bike and pedestrian travel between Arcata and Eureka will be much safer, more comfortable and more convenient.
Eureka Planning Commission to Vote on Bay-to-Zoo Trail Environmental Documents
The Commission held a study session on the project yesterday, at which they heard opposition to the trail from a number of people, whose main concern seems to be that houseless people would use it to enter their neighborhood. CRTP supports the trail (and the right of all people to use it), with some modifications for greater safety and effective design, and they also heard from us and our supporters. If you can, please come out to Monday's (masked, in-person) hearing to show your support again.
Arcata Planning Commission to Discuss Infill Plan
The ongoing process of developing a plan for denser, infill development – a concept CRTP supports – will continue at the meeting on Tuesday evening.
Eureka Street Art Festival All Next Week
Beautification of the pedestrian realm is an important measure to encourage more walking, and who doesn't love public art?
Arcata Mayor Arrested for DUI
Driving is dangerous – especially to people walking, biking and rolling nearby – and driving while intoxicated is much more dangerous. It's disturbing when our leaders, who help decide the future of our local transportation system, act this way.
---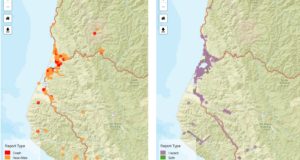 We Know You're Walking, Biking and Rolling on the Streets
Report the hazards, collisions and near-misses you experience! Local residents have reported 768 reports (and counting) on Street Story. La versión en español está disponible aquí. 
---
Wildfires Close Highways 36 & 299
Climate change-fueled fires will have a greater and greater impact on our regional transportation system in the years to come.
Petition to Support Change in Speed Limit Law
There's still a chance this legislative session to change California's dangerous and irrational method of setting speed limits.
Biden's New Car Emissions Plan Doesn't Go Nearly Far Enough
Mainstream news coverage made the plan sound ambitious, but it's mostly voluntary and less stringent than the decade-old Obama plan that carmakers trashed as soon as Trump was in office.
Bike Skills Taught in Pandemic-Adapted Schools
What a great idea!
---
The Collector is CRTP's weekly transportation news roundup, published every Friday. We focus on North Coast news, but we also include relevant state, national and international transportation news – plus other items that we just find kind of interesting! To submit items for consideration, email colin@transportationpriorities.org.