The Collector



August 13, 2021
---
HSU Expects to Double Enrollment, Build Lots of Housing
The university says it will start with building housing for 800 students on the Craftsman's Mall site (the location of the erstwhile proposed student housing project The Village). We hope that they take the opportunity to build bike, pedestrian and transit-focused housing, and avoid massive parking lots.
Bay to Zoo Trail Modifications in the Works
The Eureka Planning Commission on Monday responded to CRTP's concerns about the trail's proposed design by directing city staff to come back with a project description that provides more safety for bicyclists on Dolbeer Street and for pedestrians crossing major roads. At that point, the Commission will likely approve the environmental documents, an action CRTP will firmly support.
Broadway, Richardson Grove Projects on State Transportation Commission Agenda
The South Broadway Complete Streets Project, which CRTP strongly supports, will be officially adopted at the meeting next week. The Richardson Grove highway-expansion project, which we do not support, will also be (re)adopted by the state for funding. Another local project set to receive funding at the meeting is a massive Highway 101 repaving project stretching from McKinleyville to Trinidad. A non-local project of interest on the agenda is the Contra Costa shared autonomous vehicle demonstration project.
Infill Development Needs Good Transportation Amenities
Stop by Arcata's Transportation Safety Committee meeting next Tuesday to weigh in on what transportation features to prioritize in new development as part of the city's Strategic Infill Redevelopment Plan.
County Looking for New Aviation Revenues
Wouldn't it be nice if our local leaders prioritized funding for our lowest-carbon transportation modes as much as they do our most-polluting mode?
Eureka to Lower Boat Speed Limit
Why is it so easy to lower the speed limit for boats, and so hard to do it for cars?
Committee to Consider Old Arcata Road Project Impacts on Historic Resources
Arcata's Historic Landmarks Committee will discuss the project on Thursday.
---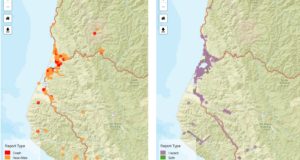 We Know You're Walking, Biking and Rolling on the Streets
Report the hazards, collisions and near-misses you experience! Local residents have reported 768 reports (and counting) on Street Story. La versión en español está disponible aquí. 
---
New Report Heightens Urgency of Climate Action
The time for climate rhetoric is over. The time for real action is now. That means, among other things, that we must bring an end to the era of the automobile.
High-Speed Rail Debate Holds Up Active Transportation Dollars
Get the scoop on transportation negotiations in Sacramento from CalBike.
Senate Introduces E-Bike Incentive Bill
There are now e-bike bills in both houses of Congress!
---
The Collector is CRTP's weekly transportation news roundup, published every Friday. We focus on North Coast news, but we also include relevant state, national and international transportation news – plus other items that we just find kind of interesting! To submit items for consideration, email colin@transportationpriorities.org.