The Collector



August 20, 2021
---
Memorial for People Killed by Cars Next Week
Please attend this gathering next Friday at 5:30 pm at the Humboldt County Courthouse to help us remember the victims of the ongoing local road safety crisis. And please wear a mask and observe social distancing guidelines.
Community Meeting on McKinleyville Active Transportation Planning
Click the link above to join the Zoom meeting at 6:00 pm next Monday, or click here for more information.
Arcata to Hold Special Meeting on COVID Relief Funding
How should the city spend its $4 million in federal relief funds? Maybe on projects that promote more walkable, equitable communities.
Draft Caltrans Active Transportation Plan Available for Public Comment
Check out what the agency plans to do about improving bike and pedestrian facilities on state highways in our region, and let them know what you think.
Sheriff's Deputy Resigns After Apparently Lying About Car Crash
The circumstances change, but the pattern is remarkably consistent: Law enforcement agencies release initial public statements about collisions based on very limited and often biased information, leading to a slanted narrative about traffic safety.
Humboldt Is Getting More Diverse
That's one of the main takeaways from recently released Census data. Another is the slowly increasing concentration of population in cities like Arcata – a good sign for active transportation and transit.
Blue Lake Developing Local Road Safety Plan
Help them out by reporting collisions (link above) or near-misses you've had in Blue Lake in recent years. And please report them on Street Story too!
---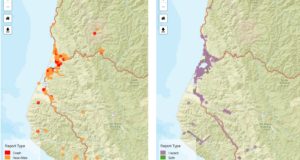 You Know the Local Streets in Your Area
Report the hazards, collisions and near-misses you've experienced on them, so we can use the data to make things safer in the future. Local residents have reported 769 reports (and counting) on Street Story. La versión en español está disponible aquí. 
---
Are Housing Bills Enough to Address the State's Crisis?
Probably not, especially if they keep getting watered down with amendments. But at least they would be a start, and a step toward undoing racist exclusionary zoning laws.
What's Going on With All Those Transportation Bills in Sacramento?
Get some highlights from the Coalition for Clean Air.
The Future of Train Travel in the US
Amtrak's fate is largely in the hands of the hedge-fund billionaires controlling American freight railroad companies – unless Congress changes some laws.
---
The Collector is CRTP's weekly transportation news roundup, published every Friday. We focus on North Coast news, but we also include relevant state, national and international transportation news – plus other items that we just find kind of interesting! To submit items for consideration, email colin@transportationpriorities.org.