The Collector



November 3, 2023
---
Yes, the Anti-Housing and Anti-Transit Arkley Initiative Is as Bad as We've Been Saying
Eureka city staff are out with their official informational report on the Arkley initiative, including an economic assessment from an outside firm. Just as we've been reporting, the impacts of the initiative passing in November would be severe. It would block walkable, affordable housing development and prevent hundreds of millions of dollars from being invested downtown. It would put the city out of compliance with state law, creating the potential for legal chaos. Also important but largely undiscussed in the staff report, the initiative would block the much-needed construction of a downtown transit center (the EaRTH Center) which is already funded by the state and would help improve local and regional transit service. The report is scheduled to be discussed by the City Council at next Tuesday's meeting.
Also on Tuesday's Council agenda is an update on the regional Climate Action Plan, including the recent decision to re-write significant portions of the plan and delay the environmental review process until next year. Get an overview of the current status of the Climate Action Plan by listening to this week's EcoNews Report.
McKinleyville Roads and Bike Lanes to Be Discussed
A joint meeting of the McKinleyville Municipal Advisory Committee and the McKinleyville Community Services District next Wednesday will tackle road projects and bike and pedestrian plans for the community. One hot topic will be the county's proposal to add bike lanes to Washington Avenue, currently the main connection between McKinleyville Avenue and School Road. CRTP supports the addition of bike lanes, but some features of the proposed design are extremely concerning – particularly the plan to end the bike lanes 150 feet short of the School Road intersection. The county says there isn't enough room for them to continue. But disappearing bike lanes create an extremely hazardous situation for people riding bikes, and giving up on bike safety is just not acceptable.
Instead, for the narrower 150 feet of road near the intersection, CRTP has proposed: (1) Narrow the car lanes to 10 feet, creating enough space for a bike lane on one side of the street – we recommend the southbound side. (2) Protect northbound and left-turning bikes by narrowing the intersection to slow down turning cars, adding speed "pillows" (speed humps with gaps for bicycles), and including prominent signage and conflict markings.
You can speak up for bike and pedestrian safety by attending Wednesday's meeting, or emailing your comments about the Washington Avenue bike lanes to publicworkspermits@co.humboldt.ca.us.
Don't Forget to Vote for CRTP & Friends!
The North Coast Co-op is holding its annual Seeds for Change vote right now, allowing members to pick nine local nonprofits to receive a month of donations next year from cash register round-ups. Please cast your vote for CRTP! We also encourage you to vote for our "sister organizations" on the ballot, as well as other friends and allied organizations including: the Environmental Protection Information Center (EPIC), Humboldt Waterkeeper (formerly Humboldt Baykeeper), Friends of the Eel River, Humboldt Trails Council, and Affordable Homeless Housing Alternatives.
Police & Reporters: Stop Blaming Pedestrian Victims
Check out CRTP Executive Director Colin Fiske's column in this week's North Coast Journal about the need to end the pervasive and insidious victim-blaming perpetuated by law enforcement agencies and the media every time a driver hits a pedestrian. Tragically, we saw another egregious example of this victim-blaming in the local press just this week. Our thoughts are with the Noe family at this difficult time.
Political Protester Alleges Attack with Vehicle
Vehicular attacks on protesters became disturbingly common during local and nationwide racial justice demonstrations in 2020. This week, a pro-Palestine protester alleged she was the victim of an assault involving a vehicle following a rally in Arcata. As CRTP stated clearly back in 2020, a car is a lethal weapon, and there is no excuse for using one to attack a protester or anyone else. We must fight against the normalization of this and every other kind of traffic violence.
---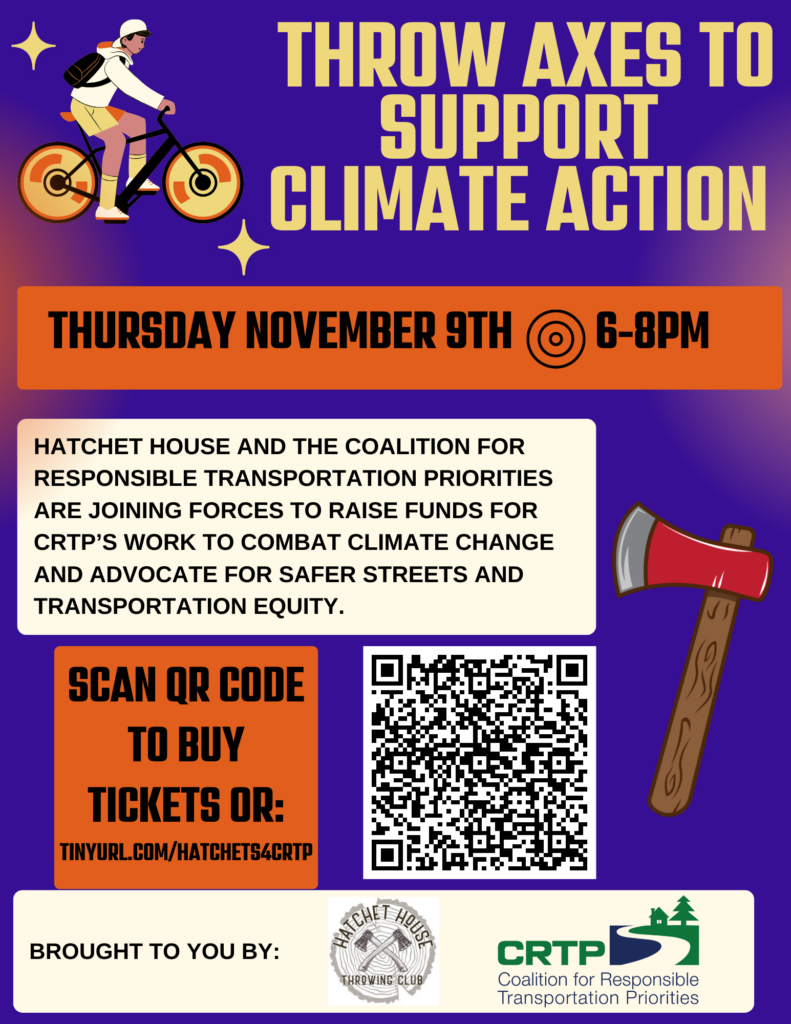 ---
Street Story: A Simple Way to Contribute to the Fight for Safe Streets
Reports on Street Story only take a few minutes, and they give CRTP and local government agencies better information about the need for safety improvements. So don't forget to make a report every time you experience a near-miss, a crash, or a hazardous location. La versión de Street Story en español está disponible aquí.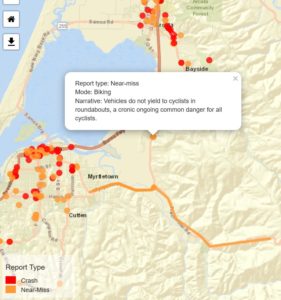 ---
News from Beyond the North Coast
State Officials Continue to Push Highway Expansions
Ignoring mountains of evidence showing that extra lanes do not relieve congestion or provide safe mobility, and disregarding the state's own climate and transportation goals, the California Transportation Commission and Caltrans keep doubling down on massive highway expansions in many parts of the state.
Message from Norway: Support for Vehicles (Even Electric Ones) Comes at a Cost
Norway is often seen as a model for environmental progress. In recent years, policy makers around the globe have lauded its remarkably fast transition to electric vehicles. However, Norwegian transportation experts are warning that the government's exclusive focus on incentivizing EVs as a climate strategy is actually increasing car ownership and undermining attempts by local governments to encourage other, lower-carbon modes of transportation.
---
The Collector is CRTP's weekly transportation news roundup, published every Friday. We focus on North Coast news, but we also include relevant state, national and international transportation news – plus other items that we just find kind of interesting! To submit items for consideration, email colin@transportationpriorities.org.