The Collector



October 27, 2023
---
Support for Key Parking Reforms in Arcata
At their study session this week, several Arcata Planning Comissioners and Councilmembers reaffirmed support for key parking reforms long sought by CRTP, including: (1) the elimination of costly and unscientific parking mandates that block walkable development, and (2) a downtown parking meter program with revenues to support walking, biking and transit. Make no mistake, such strong support for these policies would not have been possible without years of public education and advocacy from CRTP and our members and supporters. So thank you!
At the same meeting, Councilmembers approved the city's application for federal funding to implement many of the new policies in the updated General Plan. This work would include form-based zoning codes for downtown and Valley West similar to the one proposed for the Gateway Area, extending bike and pedestrian-friendly development rules to more parts of the city. You can read the application, comment and express your support here.
Co-op Members: Vote for CRTP & Friends!
The North Coast Co-op is holding its annual Seeds for Change vote right now, allowing members to pick nine local nonprofits to receive a month of donations next year from cash register round-ups. CRTP is one of your options, and we ask for your vote! We also encourage you to vote for our "sister organizations" on the ballot:
The Environmental Protection Information Center, better known as EPIC, advocates for the science-based protection and restoration of Northwest California's forests, rivers, and wildlife with an integrated approach combining public education, citizen advocacy, and strategic litigation. EPIC has been an important member and partner of CRTP since our founding and have more than earned your vote.
Humboldt Waterkeeper (formerly Humboldt Baykeeper) safeguards Humboldt Bay, the crown jewel of our local region. Since 2004, Humboldt Waterkeeper has been instrumental in protecting Humboldt Bay, whether by holding polluters accountable, watchdogging proposed developments, or getting community groups out on the water. Humboldt Waterkeeper is a vital part of our local environmental movement and needs your support.
Friends of the Eel River is leading the way on Eel River dam removal and ensuring that the Eel River—one of the most important salmonid-bearing waters in California—recovers the hundreds of miles of cold-water habitat trapped behind the dams for a century. The Friends are a key ally and deserve your support.
In addition, there are several other organizations on the Seeds for Change ballot that CRTP supports and regularly works with, including Humboldt Trails Council and Affordable Homeless Housing Alternatives. We encourage our supporters to vote for them as well.
A Walk from Fortuna to Eureka / Movimiento Indigena Migrante
Mark your calendar: on Saturday, November 4th, Centro del Pueblo will hold its annual walk from Fortuna to Eureka to honor and call attention to the journeys of immigrants and ancestors. This event reminds us that walking can often be a powerful political act. Of course, participants in the walk also have to navigate the difficulties and hazards of poor and missing pedestrian facilities in this important local travel corridor.
Marque su calendario: el sábado 4 de noviembre, el Centro del Pueblo realizará su caminata anual desde Fortuna a Eureka para honrar y llamar la atención sobre los viajes de inmigrantes y antepasados. Este evento nos recuerda que caminar puede ser a menudo un acto político poderoso. Por supuesto, los participantes en la caminata también tienen que sortear las dificultades y peligros de las instalaciones peatonales deficientes y faltantes en este importante corredor de tránsito local.
---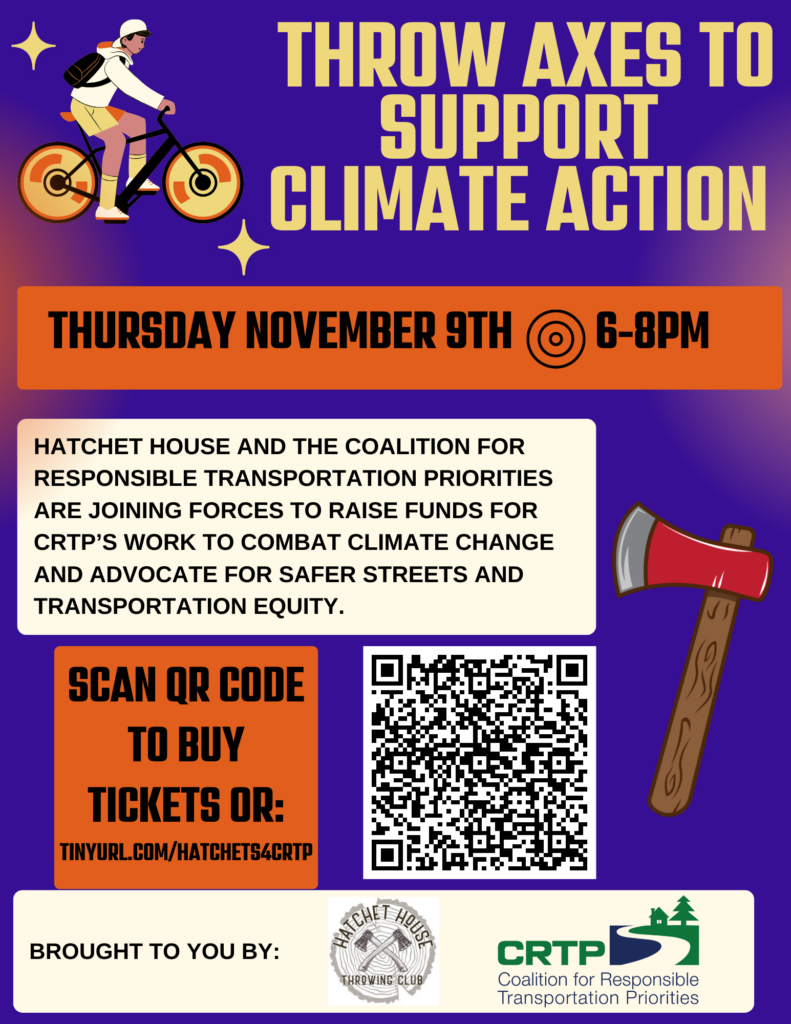 ---
Street Story: A Simple Way to Contribute to the Fight for Safe Streets
Reports on Street Story only take a few minutes, and they give CRTP and local government agencies better information about the need for safety improvements. So don't forget to make a report every time you experience a near-miss, a crash, or a hazardous location. La versión de Street Story en español está disponible aquí.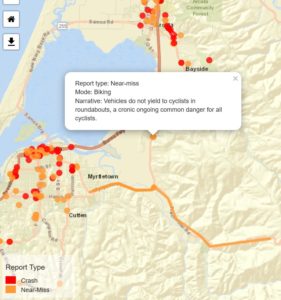 ---
News from Beyond the North Coast
Car Culture Is Neither Permanent nor Inevitable
Because Americans alive today mostly grew up in a car-dominated culture, it's easy to assume that it always has been and always will be this way. But car culture is the result of a specific set of historical developments in the twentieth century, and times are changing quickly.
A Backwards Approach to Pedestrian Safety
Engineering standards prevalent today say that a street or intersection shouldn't receive pedestrian safety upgrades unless it is already well-used by pedestrians, or multiple people have been hit and killed there. In other words, in a dangerous location, people have to regularly risk their lives and even die before officials will consider safety improvements. This approach is unethical, unacceptable and must change.
Horrific Incident Leads to Backlash Against Self-Driving Vehicles
Earlier this month, a driverless vehicle operated in San Francisco by General Motors subsidiary Cruise ran over a pedestrian who had already been hit and dragged the victim under the vehicle for 20 feet. State agencies have temporarily revoked Cruise's license, but other companies continue to operate driverless vehicles throughout the city.
---
The Collector is CRTP's weekly transportation news roundup, published every Friday. We focus on North Coast news, but we also include relevant state, national and international transportation news – plus other items that we just find kind of interesting! To submit items for consideration, email colin@transportationpriorities.org.