The Collector



October 20, 2023
---
Important Progress on Regional Climate Action Plan
This Tuesday, the Humboldt County Board of Supervisors redirected some funding toward a "do-over" of parts of the long-awaited Climate Action Plan. CRTP and our allies are deeply concerned about more delays in this process, which started five long years ago. However, we believe that most of the changes proposed by the county will strengthen the plan in the long run. Furthermore, we successfully advocated on Tuesday for the county to establish a clear timeline for adoption, and we will be monitoring progress carefully.
Most importantly, our advocacy in recent weeks paid off, and county staff and supervisors clearly stated this week that they will not include industrial point sources in the Climate Action Plan. The proposal to include these sources would have undermined the integrity of the entire plan, so this decision is a major win. Thanks to all of our allies, members and supporters who spoke up about this – your voices were heard!
Eureka Bike Plan Workshop Next Week
Next Thursday is the first public workshop on Eureka's official citywide bike plan, which is currently under development. Click here to register, and come prepared with specific input about how to create a safe and comfortable bike network for people of all ages and abilities. More information on the bike plan can be found here.
In other Eureka news, the Rob Arkley-backed, anti-housing, anti-transit initiative has officially been placed on the November 2024 ballot. CRTP strongly opposes this initiative, misleadingly named "Housing for All," which would actually prevent the city from building affordable, walkable housing and a transit center, all in the name of preserving some parking spaces.
A hundred years ago this week, Eureka was busy expanding its bustling streetcar system. Today, that system is long gone, tragically torn up in the name of "progress." But history provides an important reminder that car dependency is not inevitable. We can choose to design our communities to promote more efficient, safe and sustainable ways to get around.
Micro-Transit Is Coming to McKinleyville!
Two years ago, CRTP helped facilitate a study of options to improve public transit in McKinleyville. The final report called for trying micro-transit, which uses smaller buses or other vehicles that can be hailed using an app or a phone call, and that follow dynamic routes designed to maximize riders and minimize travel distance. These vehicles can move people around town, or bring them to a bus stop to connect to the regional Redwood Transit System. We're excited to report that the Humboldt County Association of Governments has received a grant to pilot just such a program! Stay tuned for more updates.
Get Ready for That E-Bike Voucher
The state is expected to launch its long-awaited program any day now. And when it does, the Redwood Coast Energy Authority (RCEA) will offer an additional voucher on top of that! Both vouchers will likely go fast, so prepare today by checking your eligibility, visiting a local bike shop, and planning ahead for secure e-bike storage. Click here for more information from RCEA.
CRTP Seeking Board Members
Are you a responsible transportation enthusiast with nonprofit financial experience, transportation planning or research expertise, or an important perspective to offer? You could be our next Board member! Click here for more information, including how to apply.
Another Arcata Study Session Next Week
The City Council and Planning Commission will reconvene for a third (and maybe final) joint session to discuss proposed updates to the city's General Plan. While the first two sessions focused primarily on the Gateway Area, this one is expected to cover citywide General Plan updates. There are a lot of important and positive changes proposed, including new policies prioritizing slower speeds on city streets, recognizing public transportation as a civil right, and an opportunity to finally remove the costly and unscientific parking mandates which have long stifled walkable development.
A Traffic Stop in Hoopa with Tragic Consequences
People sometimes ask CRTP why we don't advocate for more law enforcement to crack down on unsafe drivers. One of the reasons is that traffic stops all too often lead to violent and tragic outcomes, and the burden of those tragedies is felt disproportionately by people of color. There are safer, more equitable and more effective ways to improve safety on our streets and roads, and those are the solutions we will always prioritize as an organization.
---
Street Story: A Simple Way to Contribute to the Fight for Safe Streets
Reports on Street Story only take a few minutes, and they give CRTP and local government agencies better information about the need for safety improvements. So don't forget to make a report every time you experience a near-miss, a crash, or a hazardous location. La versión de Street Story en español está disponible aquí.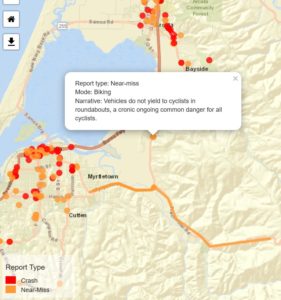 ---
News from Beyond the North Coast
Advocates Call for a Caltrans Audit & Highway Expansion Moratorium
A top Caltrans official responsible for bike and pedestrian programs was recently demoted after pointing out that funding was being misused for highway expansions – something we have seen here on the North Coast as well. These projects run counter to the state's own climate policies and are not eligible for the main highway funding program, but Caltrans has been using that money anyway. Now, advocates across the state are calling on Governor Newsom to audit funding practices at the agency and implement a moratorium on highway expansions.
Final Recap of New Laws, Vetoes and Failed Bills from the Legislative Session
CalBike's helpful post provides information on the fate of many of the important transportation bills introduced in Sacramento this year, as well as money for active transportation in the state budget.
---
The Collector is CRTP's weekly transportation news roundup, published every Friday. We focus on North Coast news, but we also include relevant state, national and international transportation news – plus other items that we just find kind of interesting! To submit items for consideration, email colin@transportationpriorities.org.