The Collector



October 13, 2023
---
Arkley-Backed Initiative Headed for the Ballot?
Next Tuesday, the Eureka City Council will consider whether to put the anti-housing, anti-transit initiative on the November 2024 ballot. Rob Arkley's paid signature gatherers got enough voters to sign their petitions, which generally means the Council doesn't have much of a choice. But the signature gathering was so tainted by false and misleading information that we think the city – or somebody – should sue in court to stop it. (Meanwhile, Arkley and his cronies are doubling down on their reckless attacks on walkable, affordable downtown housing, filing two more baseless lawsuits this week against the projects slated to be built by nonprofit Linc Housing.)
Also on Tuesday, the City Council will hold its hearing on unmet transit needs. This is one of a series of annual hearings held by local agencies to receive feedback on needed improvements to the public transportation system. You can also get your comments on the record by filling out the form here.
---
SAVE THE DATE: CRTP Fundraising Night at the Hatchet House
Mark your calendar for Thursday, November 9th, from 6-8 pm, when CRTP will be holding a fundraiser at the Hatchet House in Arcata. More details, including how to purchase tickets, will be coming soon!
---
Reflections on the Week Without Driving
Thirty people in Humboldt County participated in last week's National Week Without Driving, including ten elected officials and a number of public agency staff. Click here to read some of the reflections shared by participants. And keep your ears tuned for this week's EcoNews Report (airing and posting in podcast feeds starting on Saturday), which will feature reflections on the Week Without Driving from Humboldt County Supervisor Natalie Arroyo, Rio Dell Mayor Debra Garnes, and Eureka City Councilmember G. Mario Fernandez.
Share Your Vision with the Northcoast Environmental Center
What future do you desire for the community and the planet? Maybe it involves lots of bikes, pedestrians and public transportation? Whatever you vision is, you can write it down or draw it up and share it with the Northcoast Environmental Center.
Great Redwood Trail Celebration Tomorrow!
As a long-time supporter of the Great Redwood Trail, CRTP is participating in a community event on Saturday, October 14th, to celebrate the progress toward making this trail a reality. Unfortunately, the event location is pretty hard to get to without a car – so please sign up to carpool. And if you feel like pitching in, the event organizers are also looking for some volunteers.
---
Street Story: A Simple Way to Contribute to the Fight for Safe Streets
Reports on Street Story only take a few minutes, and they give CRTP and local government agencies better information about the need for safety improvements. So don't forget to make a report every time you experience a near-miss, a crash, or a hazardous location. La versión de Street Story en español está disponible aquí.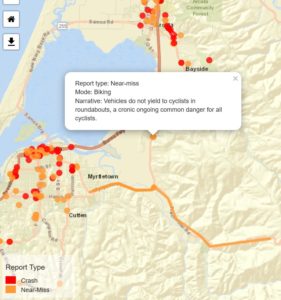 ---
News from Beyond the North Coast
Critical Crosswalk Safety Bill Signed by Governor!
Governor Newsom this week signed a bill that prohibits parking within 20 feet of the vehicle approach side of any marked or unmarked crosswalk in the state. This important safety measure, called "daylighting," provides much-needed visibility for pedestrians and drivers alike. CRTP will be advocating to ensure local governments implement the bill immediately.
Newsom also signed a number of other transportation bills in recent days. Disappointingly, he also vetoed two high-priority bills for transportation advocates: AB 825, which would have allowed bikes to ride on sidewalks where there's no safe bike infrastructure, and AB 819, which would have decriminalized fare evasion on public transit, putting the penalty roughly in line with a traffic ticket (as opposed to current draconian criminal punishments).
Bike and Pedestrian Fatalities Are Increasingly Concentrated on State Highways
National data show what North Coast residents have long observed: the safety crisis for people walking and biking is most intense on state-owned roads.
Car-Free Community Opens in Arizona
We've been following this development for a while now, as it may be the first in the country to effectively prohibit car ownership by keeping residents from parking anywhere nearby. Surprising to some, even in the Phoenix metro area – one of the nation's most sprawling, car-dependent cities – this community is in high demand. Planners take note: if they can do it there, we can do it here on the North Coast too!
---
The Collector is CRTP's weekly transportation news roundup, published every Friday. We focus on North Coast news, but we also include relevant state, national and international transportation news – plus other items that we just find kind of interesting! To submit items for consideration, email colin@transportationpriorities.org.