The Collector



October 6, 2023
---
Work Continues on the Arcata-Eureka Highway Corridor
Check out this week's EcoNews Report for a refresher on what all the construction is about. Of course, one of the highlights is the completion of the long-awaited Humboldt Bay Trail! And thankfully, that bike and pedestrian connection between Arcata and Eureka is being built at the same time as some much-needed upgrades to Eureka's bike and pedestrian infrastructure.
Your Annual Opportunity to Weigh In on Unmet Transit Needs
CRTP helps you advocate for better public transit all year round! But it's still a good idea to take the annual survey and provide your official feedback to the Humboldt County Association of Governments.
Speaking of transit needs, as we reported last week, the Blue Lake Rancheria has discontinued its bus service between Blue Lake and Arcata. Fortunately, thanks to some quick work by the Humboldt Transit Authority, some baseline transit service will now be restored by adding a Blue Lake stop to the existing Arcata-Willow Creek bus line. More improvements will be needed soon to meet the needs of people living in Blue Lake and Glendale who rely on public transit.
We're in the Middle of the National Week Without Driving
If you're someone who drives regularly, this is the perfect time to give a little thought to how your life might be different if you were among the 30% of the population who can't drive. The challenges faced by non-drivers are among the many important reasons to change our transportation systems and our communities for the better. And the next time you do get behind the wheel, perhaps take a moment to reflect first.
Celebrate the Great Redwood Trail With Us!
As a long-time supporter of the Great Redwood Trail, CRTP is participating in a community event on Saturday, October 14th, to celebrate the progress toward making this trail a reality. Unfortunately, the event location is pretty hard to get to without a car – so please sign up to carpool. And if you feel like pitching in, the event organizers are also looking for some volunteers.
---
Street Story: A Simple Way to Contribute to the Fight for Safe Streets
Reports on Street Story only take a few minutes, and they give CRTP and local government agencies better information about the need for safety improvements. So don't forget to make a report every time you experience a near-miss, a crash, or a hazardous location. La versión de Street Story en español está disponible aquí.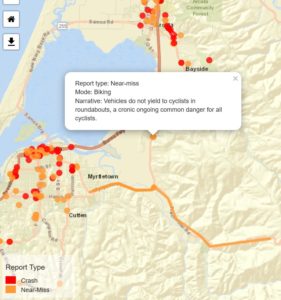 ---
News from Beyond the North Coast
Caltrans Demotes Official Who Opposed Highway Expansions
Jeanie Ward-Waller has been a champion for active transportation in California since before she was hired as a top Caltrans official several years ago. Now the agency has demoted her, apparently for objecting to the misuse of funding to support highway expansion projects that work against the state's active transportation and climate goals.
A Bunch of Responsible Transportation Bills Are Sitting on the Governor's Desk
Find out more, including how to take action, from our friends at CalBike.
---
The Collector is CRTP's weekly transportation news roundup, published every Friday. We focus on North Coast news, but we also include relevant state, national and international transportation news – plus other items that we just find kind of interesting! To submit items for consideration, email colin@transportationpriorities.org.