The Collector



September 29, 2023
---
Future Uncertain for Regional Climate Action Plan
If you saw CRTP's action alert earlier this week, you know that Humboldt County staff are promoting a new idea for the stalled regional climate action plan: take credit for past emissions reductions that local governments had nothing to do with. Staff are claiming this is the only way forward, and that they really do still want to reduce climate pollution. But the reality is that this accounting trick just reduces the pressure to do the hard work that's really needed to tackle the climate crisis, including reducing the amount of driving that local residents do. We will keep fighting to ensure that the county and local cities adopt a regional climate action plan that truly meets the urgency and scale of the challenge.
Progress on Arcata Gateway Plan and McKinleyville Town Center
Two major, long-running planning efforts, which are also top priorities for CRTP, took big steps forward this week.
On Tuesday, Arcata city councilmembers expressed unanimous support for the building height limits recommended by the city's planning commission for the Gateway Area Plan. Those height limits vary by sub-district within the Gateway area and range from four to seven stories. These increased height limits are key to the plan's efforts to produce walkable, car-optional housing, and have been one of the major sticking points for opponents of the plan. So this week's unofficial "straw poll" showing unanimous support by the council represents a big step forward. If you see Mayor Sarah Schaefer, Vice Mayor Meredith Matthews, or Councilmember Kimberley White around town, please thank them for their support of the new height limits.
Then on Wednesday, at the McKinleyville Municipal Advisory Committee meeting, committee members wrapped up their review of the draft Town Center ordinance after three years of meetings (although it will probably return to them again later). Although the committee did not formally endorse a much-needed lane reduction on Central Avenue, they did unanimously agree to recommend some form of significant traffic calming on the thoroughfare. They also reaffirmed their recommendation to remove costly parking mandates, establish a maximum of one parking space per unit for residential development, and require most parking to be shared for greater efficiency. We can't overstate how significant a change this all represents for McKinleyville (and Humboldt County as a whole), and none of it would have happened without the advocacy of CRTP and our many members and supports – so thank you!
More Hazards and Tragedies for Local Pedestrians
Tri-County Independent Living, a local group serving people with disabilities, is raising the alarm about the dangers its clients face trying to cross 4th and 5th Streets (Highway 101) to get to its office in Eureka. CRTP regularly works with Tri-County Independent Living on issues around transit and pedestrian safety, and we strongly support their efforts to get Caltrans to implement safe crossing improvements in Eureka.
The danger to pedestrians in our region is all too real. Just last week, we reported on one fatal pedestrian collision and another serious injury crash. Afterward, we learned about yet another crash seriously injuring a pedestrian, this time in Arcata. And this week, 52-year-old Isidro Gali was struck and killed by a driver on Broadway in Eureka.
The details and circumstances differ among all these near-misses and crashes, and there's a lot we don't know yet. But there is at least one commonality we can already see: they are all on streets and highways which allow or even encourage drivers to go fast. Higher speeds increase the chances of a crash, and increase the chances that a crash will be deadly if it occurs. That's why CRTP will continue to fight so hard for changes to streets that decrease traffic speeds and increase safety for everybody.
Last Chance for a Bus Adventure to Blue Lake
Next Monday, 350 Humboldt will host its next Bus Adventure. Participants will catch the Blue Lake Rancheria Transit Service bus in Arcata around 1:30 pm and ride out to Blue Lake for a tour of the Rancheria's sustainability programs. Email Bus Adventure coordinator Cathy Chandler-Klein at cathyck@sbcglobal.net for more information and to let her know you're coming.
Unfortunately, this Bus Adventure will take one of the very last rides on the Rancheria's transit service! We have confirmed that Monday will be the service's last day in operation, apparently due to the financial strain it has put on the Rancheria to operate it. We hope that other local agencies will step up to work with the Rancheria and revive transit service to Blue Lake in the near future.
New Committee Formed to Fight Anti-Housing, Pro-Parking Lot Initiative
As we've reported before, Rob Arkley is meddling in Eureka politics again, trying to stop walkable housing construction and a downtown transit hub. Now Eurekans are organizing to fight back.
---
Local Leaders Sign Up for Next Week's National Week Without Driving
The first National Week Without Driving starts on Monday, and 23 local residents – including 8 elected officials and a number of planners and community leaders – have signed the pledge to participate. This is an important opportunity for decision-makers to get first-hand insights into what it's like to live in our communities for the many people who can't drive because of age, disability, income or other reasons. If you haven't signed yet, it's not too late! Click here to sign up today.
---
Street Story: A Simple Way to Contribute to the Fight for Safe Streets
Reports on Street Story only take a few minutes, and they give CRTP and local government agencies better information about the need for safety improvements. So don't forget to make a report every time you experience a near-miss, a crash, or a hazardous location. La versión de Street Story en español está disponible aquí.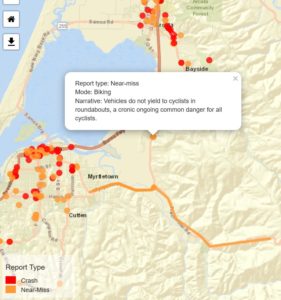 ---
News from Beyond the North Coast
Many Transportation Bills Await Governor's Signature
Check out CalBike's helpful recap, which also has opportunities to contact the governor and ask for him to sign key bills. While you're on CalBike's site, you should also consider emailing Caltrans to tell them that they can't just exempt freeway interchanges from bike and pedestrian safety guidelines.
New Report: Despite Efforts, Californians Keep Driving More
One of the main reasons is that, even though funding programs are now mostly supposed to be supporting "multimodal" and safety infrastructure, Caltrans and other agencies still keep building more lanes for cars and trucks.
Tires Are an Enormous, Formerly Unrecognized Source of Pollution
Car tires shed a trillion tiny particles for every kilometer driven. Many of those end up in the air, making tires a bigger source of health-harming particulate pollution than exhaust pipes in many areas. Other particles end up in the water, killing fish and making up 78% of microplastics in the oceans, according to one estimate. Electric cars produce even more tire pollution than gas-powered vehicles, which is another reminder that we can't solve the massive problems produced by our car culture just by shifting the power source.
---
The Collector is CRTP's weekly transportation news roundup, published every Friday. We focus on North Coast news, but we also include relevant state, national and international transportation news – plus other items that we just find kind of interesting! To submit items for consideration, email colin@transportationpriorities.org.