The Collector



September 22, 2023
---
Drivers Hit Two More People Walking in Humboldt
A visitor to Richardson Grove State Park was killed by a driver this week after emerging from a trail onto the side of Highway 101. We also learned this week that 27-year-old Ashley Hipol was seriously injured after being hit by a driver last week while walking on Highway 101 in Fortuna. The collision involving Hipol happened a little over a week after the crash on Cal Poly Humboldt's campus that left student Madelyn Vink in intensive care.
In the Richardson Grove case, police chased and then arrested the intoxicated driver. In the other cases, however, officials seemed more interested in defending the drivers than in the safety of pedestrians. Despite the fact that the driver in Hipol's case left the scene – a hit-and-run felony – the Highway Patrol spokesperson declared preemptively that the driver might not have known they hit someone. And despite admitting to not having a full statement from the Hipol, and without acknowledging that the crash happened in a location where there are few if any alternative travel routes, the spokesperson still took the opportunity to publicly lecture pedestrians about walking on the highway. In Vink's case, the victim's mother says that the University Police Department refused to even provide the name of the driver (so her family could contact their insurer) until the family hired a lawyer. It is a sad but common situation for police officers and other public officials to identify and empathize more with drivers who hit people walking or biking than with the victims themselves.
The families of both Hipol and Vink are asking for donations to help cover their expenses in the aftermath of these crashes. You can donate to support Hipol's family here, and to support Vink's family here.
Two More Gateway Plan Meetings Next Week
The City of Arcata will hold a "Gateway Housing Open House" next Monday from 4-6 pm, where attendees can learn about and provide input on the proposed Gateway Zoning Code. More information is available here.
But if you're only going to attend one Gateway-related meeting next week (yep, there are two of them!), we'd recommend going to Tuesday's City Council-Planning Commission study session. The Council is likely to take "straw votes" at that meeting on key topics including building height and density. As we've pointed out many times before, research shows that we need higher density development (and thus somewhat taller buildings) to allow more people to choose to walk, bike or ride the bus instead of driving. Some decision-makers don't seem to have received this message yet, so it's a good idea to show up and remind them if you can.
McKinleyville Committee on the Verge of Key Decisions for Town Center?
Next Wednesday, the McKinleyville Municipal Advisory Committee will continue (and maybe even finish) reviewing the draft Town Center ordinance. Thanks to years of education and advocacy from CRTP and our supporters, Committee members now unanimously support eliminating costly parking mandates in the Town Center. At next week's meeting, they may even discuss imposing parking maximums and other more ambitious parking management policies that prioritize car-free transportation. It's possible they will also finally vote to support a lane reduction and safety redesign for Central Avenue, another top priority for transportation advocates like CRTP.
Also at Wednesday's meeting, the Committee will discuss the recently completed McKinleyville Multimodal Connections Project and consider next steps for improving safe bike and pedestrian access throughout the community.
---
What Can We Learn From a Week Without Driving?
Running October 2-8, 2023, the first National Week Without Driving is an important opportunity for decision-makers to get first-hand insights into what it's like to live in our communities for the many people who can't drive because of age, disability, income or other reasons. Thanks to the community leaders, elected officials, planners and engineers who have already taken CRTP's pledge to participate. If you haven't yet, please click here to sign up today.
---
Street Story: A Simple Way to Contribute to the Fight for Safe Streets
Reports on Street Story only take a few minutes, and they give CRTP and local government agencies better information about the need for safety improvements. So don't forget to make a report every time you experience a near-miss, a crash, or a hazardous location. La versión de Street Story en español está disponible aquí.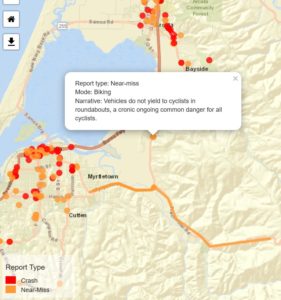 ---
News from Beyond the North Coast
Why You Should Support E-Bikes (Even If You Don't Ride One)
CalBike has put together a handy collection of resources supporting the widespread use of e-bikes and responding to common concerns.
Southern California Driver Intentionally Hits Three People on Bikes
The motive for the horrific attacks, which killed one person, is currently unknown. But Huntington Beach, where these vehicular attacks occurred, has apparently decided that the real threat is not deadly vehicles but e-bikes.
Let's Show Sidewalks Some Love
Cities invest a tiny fraction of their infrastructure budgets into sidewalks, despite the fact that these public spaces are important not only for safe walking but also for community bonding.
---
The Collector is CRTP's weekly transportation news roundup, published every Friday. We focus on North Coast news, but we also include relevant state, national and international transportation news – plus other items that we just find kind of interesting! To submit items for consideration, email colin@transportationpriorities.org.