The Collector



September 15, 2023
---
Want to Help Make Eureka Safer for Bikes?
Join CRTP, the Northcoast Environmental Center, and Moon Cycles for a bike ride around Eureka on Monday at 5:30 pm. We'll be looking at bike infrastructure and what can be done to improve it, and talking about the Eureka Bike Plan that's currently being written. Click here to register. And speaking of the Eureka Bike Plan, don't forget to take the official survey and provide your input.
Free Bus Rides on Saturday!
Local transit systems will be offering free rides tomorrow to encourage people to get to community events like the North Country Fair and Festejando Nuestra Comunidad by bus. Another great option is to go by bike, and CRTP will be offering free bike valet at the Fair!
Once you've started riding the bus, you won't want to stop. So here's more great news for the next time you ride on a day when fares are in place: all Humboldt Transit Authority buses and Arcata city buses now have convenient "tap to pay" credit card systems for paying your fare. You even get a discount for using this method.
E-bike Vouchers Are Almost Here
Last week, California finally unveiled the website for its new e-bike incentives. You can't apply for one yet – but you can get your paperwork ready, and you should. Once the program goes live, it's expected to be hugely popular, so the money will run out pretty fast.
And don't forget that when the state program begins, the Redwood Coast Energy Authority will simultaneously start its own voucher program. When the incentives are combined, you may be able to obtain up to $2,500 toward the purchase of an e-bike, depending on your income.
---
Don't Forget to Take the Week Without Driving Pledge
Running October 2-8, 2023, this is an important opportunity for decision-makers to get first-hand insights into what it's like to live in our communities for the many people who can't drive because of age, disability, income or other reasons. Thanks to the community leaders, elected officials, planners and engineers who have already taken the pledge to participate. If you haven't yet, please click the link above and sign up today.
---
Street Story: A Simple Way to Contribute to the Fight for Safe Streets
Reports on Street Story only take a few minutes, and they give CRTP and local government agencies better information about the need for safety improvements. So don't forget to make a report every time you experience a near-miss, a crash, or a hazardous location. La versión de Street Story en español está disponible aquí.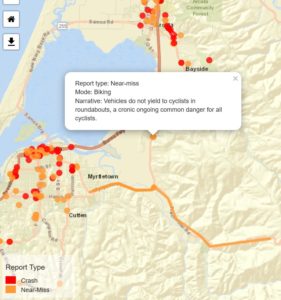 ---
News from Beyond the North Coast
Take the State Highway Complete Streets Survey
Here at CRTP, we spend a lot of time advocating for safety improvements to state highways like Eureka's Broadway that cut through local communities. The advocacy group CalBike is now conducting a statewide survey on the status of bike and pedestrian infrastructure on state highways, and you can help by filling it out!
The Cars Are Watching Us
Modern vehicles collect huge amounts of data about drivers and passengers as well as people walking, biking and rolling nearby. There are almost no privacy protections.
---
The Collector is CRTP's weekly transportation news roundup, published every Friday. We focus on North Coast news, but we also include relevant state, national and international transportation news – plus other items that we just find kind of interesting! To submit items for consideration, email colin@transportationpriorities.org.