The Collector
October 19, 2018
---
Eureka's Still Dangerous for Pedestrians
You'll notice our headline differs from the one in the Times-Standard, which focused instead on a minor reduction in overall collisions. Unfortunately, the fact that Eureka's pedestrian collision rate is still one of the highest in the state got only a passing mention in the article. On the other hand, the police officer interviewed for the story spent quite a bit of time trying to make the seeming irrelevant point that most bike and pedestrian collisions involve "transients." Word to the wise: The fact that a person injured or killed in a collision isn't part of your social group doesn't make the injury or death any less of a tragedy. In related news, more auto-oriented fast food restaurants are coming to Broadway.
Sidewalk Obstruction of the Week
Obstructions like this mailbox leave barely enough room for one person to pass. They certainly don't allow two people to walk side by side, or pass each other, which can lead to pedestrians stepping out into the street. And there's clearly not enough room for a wheelchair. Let's widen the sidewalks! Send your pictures of bike lane or sidewalk obstructions to colin@transportationpriorities.org – you might get your picture in The Collector.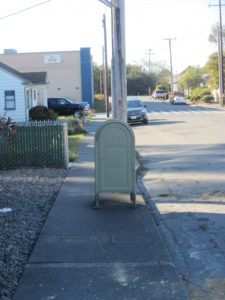 Are Hydrogen Vehicles Making a Comeback?
You might be forgiven for thinking that hydrogen-fueled vehicles were a pipe dream abandoned sometime during the second Bush administration. But now the Redwood Coast Energy Authority is teaming up with Schatz Energy Research Center to look into so-called Fuel-Cell Electric Vehicles (FCEVs) for the North Coast. Could this be part of the zero-carbon transportation solution for rural areas like ours?
Eureka City Council Approves New General Plan
It's a significant improvement over the last one from the perspective of responsible land use and transportation planning. Unfortunately, it still uses the outdated metric of vehicular level of service (LOS) as a transportation management tool.
Stagecoach Road Gets "Temporary" Fix…
…three years after it failed. The struggle to maintain our extensive and expensive road system continues.
New York Times Op-Ed Highlights the Potential Catastrophe of Prop 6
As you probably know by now, not only would the state ballot initiative remove billions in funding for road repair, it would also take away hundreds of millions for transit, pedestrian and bicycle infrastructure, and make it much harder to raise gas taxes again. Translation: it would become much, much harder to meet California's climate goals. The fact that the op-ed was published in the New York Times highlights the importance people across the nation are placing on the issue.
Cargo Bikes Take Off in Budapest
Urban delivery by bike is possible!
Sydney's Car-Sharing Program Is a Smashing Success
If they can do it in Australia, we should be able to do it here. Right?
---
The Collector is CRTP's weekly transportation news roundup, published every Friday. We focus on North Coast news, but we also include relevant state, national and international transportation news – plus other items that we just find kind of interesting! To submit items for consideration, email colin@transportationpriorities.org.