The Collector



April 7, 2023
---
Eureka City Council Does the Right Thing & Is Sued for It
The Eureka City Council on Tuesday voted to release a Request for Proposals for affordable housing development on city-owned parking lots and vacant parcels. This represents a big step toward a more equitable, healthy, walkable community, and was required by the city's previously adopted plans. But a group backed by local conservative billionaire Rob Arkley nevertheless announced plans to sue, dangerously abusing the state's premier environmental law in the process.
As we pointed out in the latest edition of the EcoNews, our communities currently have a huge amount of land dedicated to private car storage, and this comes at a cost. Continuing to do things this way, as Arkley and his ilk would have it, represents nothing more or less than prioritizing car storage over human shelter and a thriving community. CRTP will continue to do everything in our power to fight for much-needed walkable, car-light housing development in Eureka and across the region.
Gateway Plan Review Moves Forward with July Deadline
On Wednesday, the Arcata City Council reaffirmed its previous direction to the Planning Commission to complete review of the draft General Plan update by July of this year. The update includes the Gateway Plan, and the Gateway review must also be completed by July, although the Council did not specifically revisit the Gateway topic because of a procedural issue. We are grateful that there is finally an end in sight for this lengthy process, and we're hopeful that the city's bike and pedestrian-friendly plans will eventually be adopted.
To that end, the Planning Commission will be reviewing the General Plan and Gateway Plan transportation policies at its meeting next Tuesday. The proposed L/K Street couplet is sure to be the hot topic of the evening; on that issue, CRTP will only support a solution that makes K Street truly safe without adding vehicular capacity elsewhere. But we are also concerned about some of the General Plan policies that have received less attention, including those that continue to prioritize "congestion relief." The city has to come to terms with the fact that policies aimed at reducing vehicular delay (which barely exists in Arcata anyway) are ineffective and incompatible with its other stated goals of prioritizing walking, biking and public transit.
Bay Trail South Appears to Be On Schedule for Construction
Despite an apparent threat of litigation, the Board of Supervisors this week approved a construction bid award for the Bay Trail on time and on schedule. We are grateful and can't wait for this project to be complete.
Meanwhile, another regional trail project, Eureka's Bay to Zoo Trail, is also moving slowly ahead. We support this project, but we do have concerns about a few of the proposed features, including the Myrtle Avenue roundabout. Roundabouts provide great safety improvements for drivers, but without careful design can present difficulties for people walking, biking, and rolling. We'll be monitoring closely to ensure that all the features of this trail maximize safety and comfort for active transportation.
Mark Your Calendar for an Earth Day Bike Ride with CRTP!
This is the first in a series of rides we're sponsoring with the Northcoast Environmental Center and local bike shop Moon Cycles. The ride is free and open to all, but is particularly aimed at folks who have a bike but feel a little uncomfortable getting out there and using it for transportation. If that sounds like you, join us! You'll learn about basic bike maintenance, infrastructure and route finding, and get to experience a ride with a bunch of like-minded friends and neighbors.
---
Add Your Reports to Street Story!
Local residents have now made more than 1,000 reports on Street Story in Humboldt County alone. Most of the reports are for hazards, near misses and crashes – but a few safe spots have been reported too. Join your friends and neighbors and start making your reports today! La versión de Street Story en español está disponible aquí.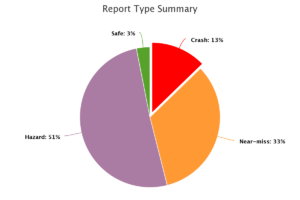 ---
News from Beyond the North Coast
Car-Free Developments Succeed in the Most Car-Dependent Cities
It may be hard to live on the North Coast without a vehicle, but we've got nothing on the mecca of sprawl called Houston, Texas. Even there, though, housing developments with no parking are proving popular. Local planners and developers should take note.
A Federal E-Bike Rebate May Yet Materialize
Combined with local and state rebates which are expected in the coming months, a federal rebate could make e-bikes affordable to a whole lot of people.
Why Do People Still Call and Text While Driving?
It's one of the most dangerous things you can do behind the wheel. A new study explores what can be done to break drivers of the habit.
---
The Collector is CRTP's weekly transportation news roundup, published every Friday. We focus on North Coast news, but we also include relevant state, national and international transportation news – plus other items that we just find kind of interesting! To submit items for consideration, email colin@transportationpriorities.org.