The Collector



April 14, 2023
---
Arcata Planning Commission Takes Steps to "De-prioritize" Car Infrastructure
The headline from this week's meeting was that the Commission voted to keep the proposed L/K Street couplet as a goal in the Gateway Plan. But they also expressed unanimous support for more near-term safety improvements to K Street. Making K Street safe for everybody has always been CRTP's priority in this debate, and although the options presented by city staff this week do not go nearly far enough, the Planning Commission's discussion opens the door for a more significant re-design.
With CRTP's encouragement, the Planning Commission also made some other decisions which got less attention but may be even more significant in the long run. For example, the Commission voted to recommend new citywide policies prioritizing accessible design for people with disabilities, and exploring the possibility of a smart parking meter system downtown. (Smart meters could reduce the subsidy for driving, support businesses by increasing turnover, and create a new funding source for public transit.) They also voted to "de-prioritize" management for traffic congestion, and to view congestion as a potential asset for calming traffic and encouraging other modes of transportation, rather than a problem to be avoided. Other changes to the General Plan will be needed to follow through on this commitment, but the vote signals a major and much-needed shift from outdated, car-centric approaches of the past.
If you want to be part of the positive changes happening in Arcata, you might consider applying to be on the city's Transportation Safety Committee. Two long-term members are leaving, creating new opportunities for you to serve and have your voice heard on key local issues.
Grab a Cocktail to Support CRTP!
During the month of April, Phatsy Kline's in Eureka is supporting CRTP. Just purchase one of their specially made Champagne violette cocktails, and part of the proceeds will be donated to CRTP. And don't forget to walk or ride the bus home if you can – or at least have a designated driver!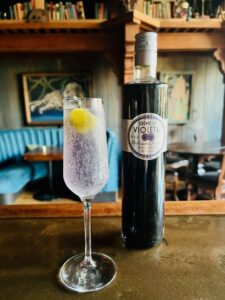 Regional Climate Action Plan Meetings TODAY & Next Tuesday
The Humboldt County regional Climate Action Plan is moving toward adoption at a snail's pace. Meanwhile, new virtual public meetings have been announced for today (Friday) at 3 pm and next Tuesday at 2 pm. It's likely that some attendees will be trying to convince the county to adopt less ambitious targets, including for low-carbon transportation. Transportation accounts for more than half of local climate pollution, and we desperately need smart policies to support more walkable development, better public transit, and infrastructure for walking, biking and rolling. So if you're free, log on and support ambitious climate action! To find the Zoom info, click here, scroll to the bottom, and click on the "CAP Working Group" tab.
People Aren't the Only Ones Threatened by Cars
In recent months, three otters have been killed by drivers in the Arcata Marsh & Wildlife Sanctuary. Will the city take these fatalities seriously and take steps to slow traffic or ban cars from South I Street altogether? We hope so. We also hope they will start responding more quickly and seriously to the cases of human victims of traffic violence in town.
---
Add Your Reports to Street Story!
Local residents have now made more than 1,000 reports on Street Story in Humboldt County alone. Most of the reports are for hazards, near misses and crashes – but a few safe spots have been reported too. Join your friends and neighbors and start making your reports today! La versión de Street Story en español está disponible aquí.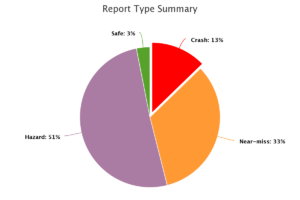 ---
News from Beyond the North Coast
One Easy Step to Make Vehicles Much Safer
Intelligent speed assistance is a commercially available technology that uses GPS to identify the local speed limit and then prevents a car or truck from speeding. It can easily be added to existing vehicles. Now a national advocacy organization is challenging public agencies to retrofit their fleets. We think it's time for local governments on the North Coast to adopt this common-sense, life-saving technology, and set an example for other drivers on the road.
Parking Reform Helps Get Housing Built
Case studies from two very different cities demonstrate that most of the housing built after parking mandates were repealed would not have been allowed before the reforms. Unscientific and costly requirements just force the construction of way too much parking!
What Is a "Complete Street," Anyway?
Complete streets are supposed to be safe for people walking, biking or rolling – including kids and people with disabilities. But sadly the term is often applied to poorly designed projects that continue to prioritize cars while giving other users little real consideration. The result is a lot of self-congratulatory back-slapping while people continue to die on the streets. CRTP is aware that no project is perfect, and often compromise is necessary in order to see safety improvements actually implemented. But we will always advocate for the best, safest, evidence-based designs in every plan and project.
---
The Collector is CRTP's weekly transportation news roundup, published every Friday. We focus on North Coast news, but we also include relevant state, national and international transportation news – plus other items that we just find kind of interesting! To submit items for consideration, email colin@transportationpriorities.org.