The Collector



April 21, 2023
---
Earth Day Bike Ride with CRTP Tomorrow!
This is the first in a series of rides we're sponsoring with the Northcoast Environmental Center and local bike shop Moon Cycles. The ride is free and open to all, but is particularly aimed at folks who have a bike but feel a little uncomfortable getting out there and using it for transportation. If that sounds like you, join us! You'll learn about basic bike safety and maintenance, infrastructure and route finding, and get to experience a ride with a bunch of like-minded friends and neighbors. You can also find CRTP tomorrow at the Decolonizing Economics Summit Earth Day Celebration.
Arcata Planning Commission Meeting Marathon Continues
Tomorrow (Saturday) at 8:30 am, the Commission holds a special meeting to discuss issues around the Gateway Area form-based code. Then on Tuesday, they will meet again to discuss parts of the General Plan update, along with concerns about building height and associated shading in the Gateway area. And then on Thursday they'll meet yet again, this time focused on transportation issues in the General Plan and Gateway Area Plan.
Here are CRTP's top-line recommendations for each of these meetings: On Saturday, the Commission should confirm that projects that comply with objective Gateway Plan requirements will receive by-right ("ministerial") approval. This will ensure that developments are consistent with the community's priorities while avoiding the unproductive, years-long reviews faced by projects like The Village. On Tuesday, the Commission should confirm the need for taller buildings to allow walkable, transit-supportive residential density in the Gateway Area. On Thursday, the Commission should adopt new General Plan policies that support their decision to "de-prioritize" car infrastructure, and commit to public transit improvements.
If you want to provide comments to the Planning Commission on any of these topics but would like more information, email us!
CRTP Member Meeting on Monday
On Monday at 5:30 pm, we'll be holding a Member Meeting on Zoom featuring a presentation by Humboldt County Planning Director John Ford about the McKinleyville Town Center. If you're a CRTP member, you should have received an email with a registration link. (If you're not a member yet, you can always join today!) We hope to see you there.
Humboldt's Air is Pretty Clean – But Not for Lack of Driving
Cars and trucks are the number one source of health-harming air pollution. Thankfully, Humboldt's topography, weather, and relatively small population have so far allowed us to avoid air pollution levels seen elsewhere in California. But that doesn't mean our region is immune from the health effects of tailpipe emissions! Those dangerous chemicals are still spewing into the faces of nearby people walking, biking and rolling, and even into people's own cars.
Raise a Glass for CRTP!
For one more week (until the end of April), when you buy a Champagne violette cocktail at Phatsy Kline's in Eureka, part of the proceeds will go to support CRTP. Enjoy – and please transport yourself responsibly to and from the bar!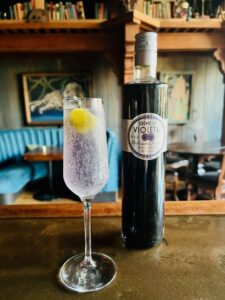 ---
Add Your Reports to Street Story!
Local residents have now made more than 1,000 reports on Street Story in Humboldt County alone. Most of the reports are for hazards, near misses and crashes – but a few safe spots have been reported too. Join your friends and neighbors and start making your reports today! La versión de Street Story en español está disponible aquí.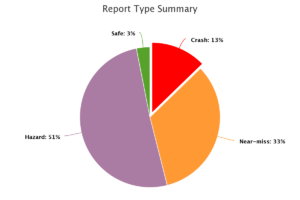 ---
News from Beyond the North Coast
Biden Administration Drops Climate Priorities from Highway Fund Guidelines
Does this mean a return to the bad old days of massive highway building at the expense of safety and the planet?
New Federal Rules Will Require A Lot More Electric Cars
Meanwhile, California is hitting its EV sales targets early. We're all in favor of getting rid of fossil-powered vehicles. But the only real way to avoid environmental catastrophe is for new EVs to start getting a lot smaller – and for Americans to just start buying a lot fewer cars.
---
The Collector is CRTP's weekly transportation news roundup, published every Friday. We focus on North Coast news, but we also include relevant state, national and international transportation news – plus other items that we just find kind of interesting! To submit items for consideration, email colin@transportationpriorities.org.