The Collector



March 24, 2023
Editor's Note: The Collector is on a break next week, but never fear – we'll be back in April!
---
McKinleyville Committee Primed to Eliminate Parking Mandates in Town Center
On Wednesday, almost all Municipal Advisory Committee members supported the removal of costly, unscientific parking mandates from the town center ordinance, and some suggested establishing parking maximums. This is a really significant change for McKinleyville, and will go a long way toward allowing a walkable town center to develop. Thanks to all the CRTP members and supporters who spoke up! A final vote on this issue will come at next month's meeting.
Humboldt Supervisors Not Sure About F Street Signal
The Supervisors delayed a decision about a traffic signal at F and Oak Streets just ouside Eureka city limits. Neighbors have been advocating for improvements for years, and Supervisors wanted to review all their options for safety and traffic calming. CRTP supports traffic calming and safe crossing improvements on F Street, but believes that a signal may not be the most effective method to achieve these goals. We hope that this review results in a project that truly prioritizes safety over traffic speed.
Also on Tuesday, Supervisors moved forward plans for extending the Humboldt Bay Trail to College of the Redwoods and discussed the latest storm damage to roads and the county's huge road maintenance deficit. Supervisor Wilson pointed out that continuing to maintain and repair the county's extensive rural road network to current standards is likely not financially feasible in the long term, and hard decisions will have to be made eventually.
Less noticed but also important, the Supervisors approved an agreement with Caltrans allowing county social services staff to access encampments where people are living in Highway 101 right-of-way. We are glad to see a public agency at least try to provide services to unhoused people in Caltrans right-of-way, rather than simply evicting them as has often been the case in the past. Most of the public land in our communities is devoted to streets and highways, and with the current housing crisis it is sad but unsurprising that some people end up living there.
Fortuna City Council Approves Kenmar Interchange Improvement Plans
We are pleased that the plans include desperately needed pedestrian access across Highway 101, as well as traffic calming features. However, we always have concerns about the safe design of roundabouts for people walking and biking – and those concerns are heightened here, where some approaches are high-speed highway off-ramps. With no vehicle stop required, these designs are particularly hard to navigate for people with low vision and blindness.
Arcata Planning Commission to Speed Up Gateway Plan Review
They'll have to pedal harder to reach the finish line by the City Council's July deadline, and unresolved issues will be parked in the bike rack. A special meeting has been scheduled for next Monday, in addition to next Tuesday's regular meeting, to get the process rolling.
---
Add Your Reports to Street Story!
Local residents have now made more than 1,000 reports on Street Story in Humboldt County alone. Most of the reports are for hazards, near misses and crashes – but a few safe spots have been reported too. Join your friends and neighbors and start making your reports today! La versión de Street Story en español está disponible aquí.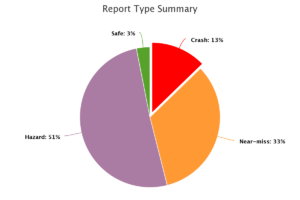 ---
News from Beyond the North Coast
Bigger Vehicles Mean Bigger Problems – Whether or Not They're Electric
CRTP Executive Director Colin Fiske joins the EcoNews Report to talk about why we need to look to solutions like infill development, not just electrifying trucks and SUVs, to solve the climate crisis and other environmental and social problems.
Bill to Study Fees for Bigger Vehicles Passes First Committee
Bigger vehicles are more dangerous, more polluting, and cause more damage to roads, so AB 251 would tell the California Transportation Commission to study options for charging them more to use the roads. Other bills that passed out of the California Assembly's Transportation Committee this week include AB 413, which would prohibit parking within 20 feet of any legal crosswalk to improve safety and visibility; AB 825, which would allow bikes to ride on sidewalks anywhere there's no dedicated, safe bike infrastructure; and AB 761, which would establish an official task force to plan for increasing transit ridership statewide.
New Report: The Climate Crisis Is Dire, Action Is Needed Now
Transportation is the biggest source of climate pollution in the United States, and on the North Coast.
Is Congestion the Solution?
A new study adds to the evidence that congestion causes people to drive less, and free parking causes them to drive more.
---
The Collector is CRTP's weekly transportation news roundup, published every Friday. We focus on North Coast news, but we also include relevant state, national and international transportation news – plus other items that we just find kind of interesting! To submit items for consideration, email colin@transportationpriorities.org.