The Collector



February 25, 2022
---
Committee Nears Consensus on Central Ave Lane Reduction
At its meeting this week, McKinleyville Municipal Advisory Committee members acknowledged the overwhelming public support they'd heard from all of you for a "road diet" on Central Avenue. With that in mind, a consensus emerged for reducing the number of lanes on Central throughout the Town Center area. This wouldn't have happened without you! There is still debate over whether the road diet will mean removing 2 lanes (leaving 1 in each direction and a two-way turn lane in the middle) or removing 3 lanes (leaving 1 in each direction with a landscaped median). CRTP supports the option with the landscaped median, which would calm traffic more effectively and reduce the number of vehicular conflicts encountered by people walking and biking.
Eureka Transit Center Parking Lots Back on Council Agenda
The Eureka City Council unanimously approved the proposed downtown transit and housing center two weeks ago, despite complaints from opponents about the loss of parking. Next Tuesday, they'll have to revisit the subject in order to officially authorize the transformation of the existing parking lots for that purpose. (It's a bureaucratic requirement dating back to the 1950s, when the city first built downtown parking lots.) We don't expect any change in the Council's decision. But we're sure there will be more parking grievances aired at the meeting, so if you live or work in Eureka, you might want to remind the Council how much you support the transit center project.
Eureka's Linc Housing Projects Delayed by Funding Issues
We're disappointed to report that the first round of affordable housing slated to be built on downtown parking lots – along with bike, pedestrian and transit improvements – did not win the hoped-for state grant funding. The non-profit developer, Linc Housing, hasn't given up, though! They're looking at other funding sources or possibly re-applying for the same grant again next year.
Downtown Eureka Densification Continues
A new four-story mixed-use building with rooftop bar is in the works (replacing a one-story building). There is no opposition to this project, a notable fact given the fierce reaction to other proposed downtown projects. When considering why this might be, we think it is instructive to note this project's most salient differences from those other projects: this one one won't take away any parking spaces or serve lower-income residents.
Some People Have Airport Problems
Murray Field, a county-owned airport used only by private pilots, is pondering whether to increase rents and replace degraded fuel tanks. Some local pilots are upset by the changes, some of which are mandated by the Federal Aviation Administration to reduce the county's long-time airport operating subsidies. We question the idea of further subsidizing this most carbon-intensive of travel modes, especially given that Murray Field and its fuel tanks are directly in the path of rising seas.
---
Don't Forget to Make Your Reports on Street Story
Report the hazards, collisions and near-misses you've experienced on local streets, so we can use the data to make things safer in the future. Local residents have made 898 reports (and counting) on Street Story. La versión en español está disponible aquí.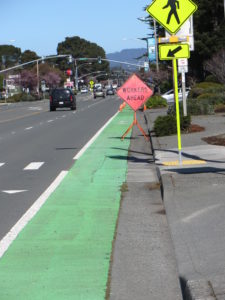 ---
Changes at the Top
Caltrans Director Toks Omishakin has been a breath of fresh air since his appointment in 2019, leading the agency in a new direction more focused on safe and sustainable transportation. Governor Newsom recently promoted Omishakin to State Transportation Agency Secretary, leaving big shoes to fill at Caltrans. CRTP is joining with many other organizations across the state in urging Newsom to appoint current Caltrans Deputy Director and past bike and pedestrian advocate Jeanie Ward-Waller as the new Director.
Bombing, Shooting and…Gas Prices?
A startling amount of reporting about Russia's invasion of Ukraine this week – not to mention the international response – has focused not on the horrors of war or the threat to democracy but on the impact to gas prices. These distorted priorities a symptom of a broken and inhumane transportation system.
"The Absurd Primacy of the Automobile in American Life"
We couldn't have said it any better ourselves.
Want to Understand How Parking Policy Actually Works?
Check out this webinar from Bay Area advocacy group TransForm.
Carmakers Making Sure Tailpipe Emissions Are the Only Problem EVs Will Solve
Even with the transition to electric power, companies are doubling-down on huge, dangerous, inefficient vehicles.
---
The Collector is CRTP's weekly transportation news roundup, published every Friday. We focus on North Coast news, but we also include relevant state, national and international transportation news – plus other items that we just find kind of interesting! To submit items for consideration, email colin@transportationpriorities.org.