The Collector



February 11, 2022
---
Eureka Downtown Transit and Housing Center Approved!
Even better, the City Council committed to making a lot of the housing affordable and expressed support for adding even more residential units. Thanks to all of you who showed up at this week's meeting or sent in your comments, the Council heard from more people in enthusiastic support of this project than they did from the opposition – whose only concern appeared to be the loss of some parking spots. The project still needs to secure funding and jump through some additional hoops, but this is a major step forward.
Arcata Committee to Consider Complete Streets Policy
Next Tuesday, the Transportation Safety Committee will give input on a proposed policy headed to the City Council. The policy is based on a model provided by RCCER. It requires the city to add new bike, pedestrian and transit features whenever they do a maintenance, repair or new construction project on city streets – or to publicly justify why they aren't. CRTP fully supports the policy, but we are concerned that city staff have removed an equity provision from the model ordinance requiring the city to concentrate on historically disadvantaged neighborhoods. We'll be providing our feedback at the meeting, and we encourage you to come too!
Driver Hits Person on Bike in Arcata, Resulting in Major Injury
Not much information is available yet, but our thoughts are with the victim and their family.
Nordic Aquafarms Comment Period Ends Next Friday
The massive project would create a lot of new truck trips and use as much electricity as a whole town. Check our yesterday's action alert for information about weighing in on the environmental document.
Huffman Talks Infrastructure (and a Lot More)
Check out the latest EcoNews Report, in which North Coast Congressman Jared Huffman joined CRTP Executive Director Colin Fiske and other local environmental leaders to talk about Build Back Better and a lot of other important topics.
Gateway Plan Edges Closer to City Council
The bike and pedestrian-friendly plan for dense, walkable, infill development continues to draw a lot of opposition, so it's important to show up at every opportunity to support it!
---
Don't Forget to Make Your Reports on Street Story
Report the hazards, collisions and near-misses you've experienced on local streets, so we can use the data to make things safer in the future. Local residents have made 892 reports (and counting) on Street Story. La versión en español está disponible aquí.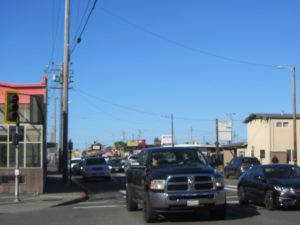 ---
Fortuna Looks at Improving a Dangerous Intersection
The City Council also voted to continue its partnership with Bird scooters, which were first deployed in the city last year.
Full Cycle Compost Is Still Pedaling Strong
Everyone's favorite local bicycle-powered composting service estimates that, since it started last May, it has diverted 5.4 tons of material from the landfill – and produced lots of great compost for the Jardín Santuario community garden and Caudal Fin Farm. And they're accepting new subscribers! If this business can run on bicycles, imagine the possibilities for other local businesses.
Want to Develop Dense, Affordable Housing in Humboldt?
If you're in a position to do it, be sure to register for next week's workshop for developers to learn how.
Federal Money Coming for EV Chargers
As we've said many times before, rapid electrification of transportation is critical for fighting the climate crisis. But let's not forget the other side of the equation – we also just have to drive a lot less.
---
The Collector is CRTP's weekly transportation news roundup, published every Friday. We focus on North Coast news, but we also include relevant state, national and international transportation news – plus other items that we just find kind of interesting! To submit items for consideration, email colin@transportationpriorities.org.