The Collector



February 4, 2022
---
Downtown Eureka Transit Center Meeting Next Week
An exciting plan to build a long-needed downtown transit center in Eureka will be the subject of a special City Council meeting next Wednesday at 6 pm. The plan includes not just a hub for existing bus routes but also new dedicates routes to Cal Poly Humboldt; carshare and bikeshare hubs; new zero emission buses; a childcare center and pharmacy; and 2-3 stories of housing on top. CRTP is in full support of the plan, although we do think there should be even more housing included. Show up on Wednesday to voice your support!
Grieving Jennifer Garcia
The beloved community member died from her injuries a week after a driver hit her in a crosswalk on St. Louis Road in Arcata. She reportedly spent the last moment prior to the collision pushing the stroller containing her young child out of the path of the oncoming vehicle. We not only mourn her loss, but demand that our streets be redesigned to prevent this kind of tragedy from happening again and again.
Planning Commission Again Ignores Concerns Over McKay Development
The Humboldt County Planning Commission considered one last piece of the massive McKay Tract suburban subdivision project last night: a formal Development Agreement with the County. Commissioners again ignored public and agency input, along with official county plans for reducing driving and greenhouse gas emissions, and recommended that Supervisors approve the project with no modifications. Clearly the Commissioners need to be educated about the real and urgent issues facing our region – if only they would listen.
Cal Poly Humboldt Declare Focus on Climate, Proposes Parking Garages
No, that's not a mistake or a joke. The newly renamed Cal Poly Humboldt has declared its intention to educate the next generation of climate leaders, and at the same time is proposing to build the region's first two parking garages to continue catering to our nation's biggest climate killer – the automobile.
Want to Make Eureka More Walkable, Bikeable, and Transit-Friendly?
Join the City's Transportation Safety Commission! There are currently two open seats, and the Commission needs members who understand transportation issues. If you're reading this, that's probably you!
Board of Supervisors Moves Forward With Anti-Coal Ordinance
On Tuesday, Humboldt County became the latest local government to propose an ordinance aimed at preventing transportation and export of coal from Humboldt Bay, and protecting the future Great Redwood Trail. Supervisors voted unanimously to move the ordinance forward. Final adoption will come at a future meeting.
---
Don't Forget to Make Your Reports on Street Story
Report the hazards, collisions and near-misses you've experienced on local streets, so we can use the data to make things safer in the future. Local residents have made 886 reports (and counting) on Street Story. La versión en español está disponible aquí.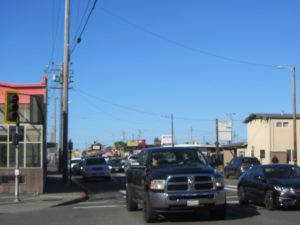 ---
Arcata City Council Tours New Sorrel Place
The new four-story affordable apartment building a block off of the Plaza includes lots of transportation amenities, such as free bus passes for all residents over the age of two and dedicated indoor bike storage rooms. The project also came with funding for sidewalk and transit improvements, which the City is in the process of implementing. It's a preview of what could come with redevelopment of the Gateway Area.
Vast Majority of Pedestrians Killed Recently in Portland Were Houseless
A new assessment found that 70% of people killed while walking in the city in 2021 had no permanent shelter. This kind of data is rarely available, but anecdotal evidence suggests that the trend is likely similar in other places as well, including on the North Coast. We strongly suspect that one of the reasons pedestrian deaths do not generally get much public attention is the indefensible but common dehumanization of houseless people who are often the victims.
Higher Gas Prices Mean Less Sprawl
A new study adds to the evidence that getting people to drive less – and build less car-oriented neighborhoods – requires not only incentives to walk, bike and take the bus, but also disincentives for driving.
---
The Collector is CRTP's weekly transportation news roundup, published every Friday. We focus on North Coast news, but we also include relevant state, national and international transportation news – plus other items that we just find kind of interesting! To submit items for consideration, email colin@transportationpriorities.org.