The Collector



January 28, 2022
---
New Cal Poly Humboldt Climate Action Plan Out for Review
Because a lot of the emissions come from student and employee commutes, addressing the newly renamed university's climate impacts will require a lot of actions that will impact the broader community as well. Proposed measures include discouraging car use by disallowing parking passes for most first-year students and those who live near campus. The university is accepting comments until February 10th.
A Road Diet for Central Avenue?
This week the McKinleyville Municipal Advisory Committee (MMAC) continued reviewing the county's draft town center ordinance. Much of the discussion focused on redesigning Central Avenue. To accomplish some of the safety goals and design elements proposed by the MMAC, the Humboldt County Public Works department has suggested reducing the number of travel lanes in the Town Center from 4 down to 2. We strongly support this idea, as do some members of the MMAC. But several other members thought that would take too much space away from cars. If you haven't yet, email the MMAC today with your support of reducing the lanes on Central Avenue.
McKay Subdivision Back on the Agenda
Although the agenda had not been published at the time of writing, the Humboldt County Planning Commission is expected to consider a Development Agreement for the sprawling subdivision at its Thursday meeting next week. We hope that the agreement, which has not yet been published, will contain at least a few requirements for better bike, pedestrian and transit amenities.
Help Decide How Budget Will Be Spent in Valley West
Communidad Unida del Norte de Arcata (CUNA) is holding the area's first participatory budgeting process to decide how to spend money on improving the Valley West neighborhood. If you live in Valley West, show up and have your say. Improved sidewalks, bike lanes and bus stops are all possibilities!
Now for Some Positive Developments
In the latest edition of the EcoNews, CRTP Executive Director Colin Fiske talks about being an environmentalist advocating for development.
Another Opportunity to Engage with the Gateway Plan
On Saturday (tomorrow), there will be another walking tour of the Gateway Area. Come out and show your support for the most bike- and pedestrian-friendly plan we've seen in our region yet!
---
Don't Forget to Make Your Reports on Street Story
Report the hazards, collisions and near-misses you've experienced on local streets, so we can use the data to make things safer in the future. Local residents have made 881 reports (and counting) on Street Story. La versión en español está disponible aquí.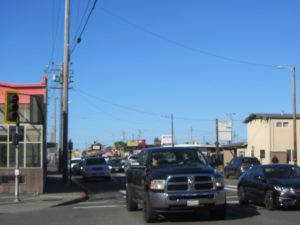 ---
Don't Forget: Workshop Next Week on Adding More Housing to Your Property
If you own property in any of the denser communities of unincorporated Humboldt County, you can do your part to address the housing crisis and improve walkability!
SB 307 Easily Passes State Senate
There was broad bipartisan support for Senator McGuire's bill to prevent any state funding from supporting coal transportation or export through Humboldt Bay. The Humboldt County Board of Supervisors is expected to take up an ordinance against coal export and transportation next Tuesday, but as of this writing the agenda had not yet been published.
Buttigieg Proposes a New Federal Approach to Road Safety
Some of the changes may seem kind of wonky, but the results of implementing this new strategy would be enormous. It would bring the USDOT into the twenty-first century with a focus on complete streets and reducing road fatalities to zero.
Is Online Shopping Good or Bad for the Climate?
It turns out that depends largely how you shop when you buy in person. If you walk, bike or take transit and/or make fewer shopping trips, it's much better to shop at a brick-and-mortar store. If you drive to the store 10 times a week, you would probably produce fewer emissions by ordering online. So let's support local businesses and the environment by shopping locally on foot, bike, or bus!
That Battery Problem
We need to electrify transportation where we can't walk, bike, or take transit. But electric vehicles are no panacea.
---
The Collector is CRTP's weekly transportation news roundup, published every Friday. We focus on North Coast news, but we also include relevant state, national and international transportation news – plus other items that we just find kind of interesting! To submit items for consideration, email colin@transportationpriorities.org.