The Collector



January 21, 2022
---
Regional Transportation Plan Approved!
Yesterday afternoon, the Humboldt County Association of Governments (HCAOG) gave final approval to the county's updated Regional Transportation Plan. CRTP worked hard to ensure that the plan has ambitious and necessary goals to increase bike and pedestrian safety and decrease climate-harming emissions, and we were successful at that. We also argued for ranking projects based on their alignment with those goals. While HCAOG did not agree to that last demand for this version of the Plan, they did commit to doing it in the future. So now comes the hard part: ensuring that the County and the cities actually meet the targets they've adopted for themselves.
More Opportunities to Engage with the Gateway Plan
Today and Saturday, the City is holding an open house at the Arcata Community Center. Next Saturay (1/29), there will be another walking tour of the Gateway Area. Come out and show your support for the most bike- and pedestrian-friendly plan we've seen in our region yet! And while you're at it, check out the op-ed supporting the plan by CRTP Executive Director Colin Fiske and several other local environmental leaders in the Lost Coast Outpost.
Correction
Last week, we wrote that the Humboldt County Planning Commission "approved" the McKay Ranch subdivision. In fact, the Planning Commission recommended approval to the Board of Supervisors, who will have the final say in the matter. We regret the error, but look forward to another opportunity to argue against more car-oriented sprawl and in favor of walkable, bikeable and transit-oriented development.
Arcata Safe Parking Program Moves Forward
We're not normally fans of new parking lots. But as long as people are living in their vehicles because they can't afford to live anywhere else, there will be a need for safe parking.
Local Safety Projects Up for a Vote
At its meeting next week, the California Transportation Commission will vote to allocate funding for two important local projects: bike, pedestrian and traffic-calming improvements in Blue Lake, and shoulder-widening at a dangerous spot on Central Avenue near Bella Vista in McKinleyville. Sadly, also on the CTC's agenda is approval of "emergency" funding to remove and permanently exclude houseless people from several underpasses in Arcata. We understand the need to repair and maintain these underpasses, but it's inhumane to remove people with no clear plan of where they will now live.
McKinleyville Town Center Plan Slowly Moving Toward Walkability
At a special meeting this week, the McKinleyville Municipal Advisory Committee continued reviewing the county's draft town center ordinance. Most notably, there appeared to be growing support for the idea of applying the same form-based, walkable development standards to the entire town center area, something CRTP has been pushing for. The MMAC will meet again next Wednesday to continue the discussion.
---
Don't Forget to Make Your Reports on Street Story
Report the hazards, collisions and near-misses you've experienced on local streets, so we can use the data to make things safer in the future. Local residents have made 881 reports (and counting) on Street Story. La versión en español está disponible aquí.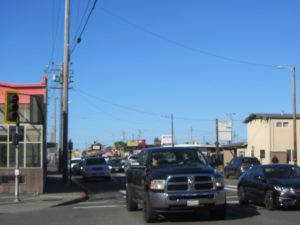 ---
Own Property? What to Put More Housing On It?
If you live in the unincorporated part of Humboldt County, attend a workshop to find out how easy it is to increase your density.
Committee Unanimously Passes Anti-Coal Train Bill
The California Senate Transportation Committee voted 11-0 to support a bill sponsored by North Coast Senator Mike McGuire to prohibit any state funds from supporting the nefarious plan to rehabilitate the North Coast's rail line for the purpose of exporting coal from Humboldt Bay.
Transportation and the Budget
Governor Newsom's budget proposal has more money – though not enough – for active transportation and transit. It also has a proposal to lower the gas tax, which would just encourage more driving. Learn more from CalBike.
More on Caltrans' New Complete Streets Policy
A new direction, or more of the same?
---
The Collector is CRTP's weekly transportation news roundup, published every Friday. We focus on North Coast news, but we also include relevant state, national and international transportation news – plus other items that we just find kind of interesting! To submit items for consideration, email colin@transportationpriorities.org.