The Collector



February 18, 2022
---
Last Day to Comment on Fish Farm Environmental Documents
If you need inspiration about what to say, check out the detailed comments just submitted by CRTP and a long list of our environmental allies.
McKinleyville Meeting Will Focus on Central Avenue
Next Wednesday at 6 pm, the McKinleyville Municipal Advisory Committee will continue its discussion of the draft Town Center Ordinance. The discussion is expected to focus on the proposal to narrow Central Avenue from 4 to 2 lanes in this area. Thanks to you, MMAC members have heard a lot of support for this idea since their last meeting. If you can, please show up on Wednesday and support it in person, too!
Arcata City Council Approves Long-Delayed Old Arcata Road Project
The project will bring much-needed bike and pedestrian improvements, along with a roundabout that sparked a lot of controversy. CRTP supports the project, but we do have serious concerns about the difficulty that roundabouts can present to bicyclists and pedestrians – especially those who are vision-impaired.
Arcata Residents Worried About Traffic Safety
For the normally sparsely-attended Transportation Safety Committee, this week's meeting was unusual. A steady stream of residents spoke out about the urgency of addressing the lack of safety on our streets for people walking and biking, spurred on by the two recent tragic collisions in town as well as by regular close calls for kids and parents noted by staff at Pacific Union School on Janes Road. The Committee promised to agendize a full discussion of the issue at its next meeting, and also moved ahead with a conversation on the proposed Complete Streets Policy support by CRTP.
Driver Hits Skateboarder in Eureka
We are grateful that the victim in this collision appears to be OK. But this is an important reminder that people using skateboards are just as vulnerable as people walking and biking on our local streets. So if you see us use the term "rolling" – as in, "walking, biking and rolling" – we're talking about skateboards, as well as scooters, wheelchairs, and other similar devices.
Bay Trail Inches Toward Completion, While New Obstacles Arise
Humboldt County acquired a key easement this week, but significant hurdles remain – including the possibility of a bureaucratic funding freeze related to the county's accounting woes. Meanwhile, slow progress continues toward the Great Redwood Trail (of which the Bay Trail would eventually be a part), and people continue to drive dangerously in the Safety Corridor (which the Bay Trail will allow pedestrians and bicyclists to avoid).
---
Don't Forget to Make Your Reports on Street Story
Report the hazards, collisions and near-misses you've experienced on local streets, so we can use the data to make things safer in the future. Local residents have made 895 reports (and counting) on Street Story. La versión en español está disponible aquí.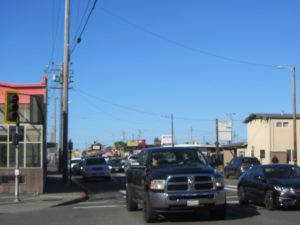 ---
Car Hits Car Dealership
This is yet another reminder of the destructive power of the vehicles. We also note the interesting fact that media coverage completely failed to note the irony of the incident, perhaps another indicator of the way we accept these dangerous machines as normal features of our everyday lives. We suspect that the coverage might have had a different tone in an analogous situation involving a different industry – if, say, someone had broken the window of a skate shop by swinging a skateboard, or went after a sporting goods store with a baseball bat.
State Legislative Leaders Voice Concerns About Newsom's Gas Tax Break
Assembly Speaker Anthony Rendon and Senate President Pro Tem Toni Atkins also addressed the need for more reforms to encourage infill housing.
Housing Costs Still Out of Reach for Most Local Residents
And we can expect climate change-driven wildfires to only increase the problem going forward. The urgency is growing to build more dense, infill housing in places not susceptible to wildfires and sea level rise – giving people cheaper homes where they can drive less and contribute less to climate chaos, and also be safer from its impacts.
---
The Collector is CRTP's weekly transportation news roundup, published every Friday. We focus on North Coast news, but we also include relevant state, national and international transportation news – plus other items that we just find kind of interesting! To submit items for consideration, email colin@transportationpriorities.org.