The Collector



March 4, 2022
---
Broadway Improvements Coming – Your Voice Was Heard!
If you signed our petition for a safer Broadway last fall and have been wondering what came of it, listen to the latest episode of the EcoNews Report for an update. The short version is that Caltrans received the petition and heard our requests, and now they are planning significant bike and pedestrian improvements throughout the Broadway corridor in the relatively near term. They are also for the first time including CRTP and other stakeholders in their internal project development meetings, giving us the opportunity to help shape the designs from the beginning. This is a major shift in the way Caltrans works, and it wouldn't have happened without you!
A Better Way to Fund Transportation Improvements
Join David Cobb of Cooperation Humboldt and the California Public Banking Alliance to hear about the potential for public banks to fund needed infrastructure and other improvements without the need to pad the pockets of private banks with exorbitant interest rates and profit margins.
Council Confirms Support for Transit Center
In another unanimous vote this week, the Eureka City Council released two downtown parking lots for future development of the "EaRTH Center" transit and housing hub.
Eureka Waterfront Plan Meeting Next Week
Register for this public meeting next Thursday to provide your input and support for walkable, transit-oriented waterfront development!
Bike Ride Honors Those Killed on the Road in Arcata
The monthly Critical Mass bike ride stopped at the intersection of St. Louis Road and Janes Creek Drive to remember Jennifer Garcia, who was struck and killed by a driver there last month.
Gateway Plan Scoping Meeting Rescheduled for Next Week
A Zoom snafu forced the previously scheduled meeting to be scrapped. But next Thursday the City of Arcata will hold a new public meeting to receive input on what types of environmental impacts should be considered as the Gateway Area Plan and the rest of the General Plan update move forward.
Humboldt Supervisors Consider Increasing Transient Occupancy Tax
Transportation improvements are some of the potential uses listed for new tax revenues. Could this be an opportunity to better fund local public transit and active transportation infrastructure?
---
Don't Forget to Make Your Reports on Street Story
Report the hazards, collisions and near-misses you've experienced on local streets, so we can use the data to make things safer in the future. Local residents have made 900 reports (and counting) on Street Story. La versión en español está disponible aquí.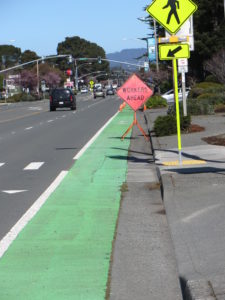 ---
Another Car Culture Restaurant in Eureka?
Don't we have enough car-oriented infrastructure around here? We stand with those calling for a ban on new drive-through facilities in the city.
Humboldt Gas Prices Spiking
Just another reason to rely on active transportation and clean transit instead of notoriously unreliable fossil fuels. Nobody ever fought a war to control access to bicycles.
"But How Are We Going to Pay For It?"
That's a common refrain from opponents to dense infill development. Here's a primer on why this kind of development is the only kind that actually pays for itself.
Is California Finally Getting Serious About Funding Sustainable Transportation?
A new report from one of the state's own agencies calls for an overhaul of the transportation funding system to get it in line with the state's climate goals.
Big Trucks and SUVs Are Dangerous for Kids
Automakers have tried to convince parents that bigger cars will protect their kids. But what if your kid is on the outside of the car?
---
The Collector is CRTP's weekly transportation news roundup, published every Friday. We focus on North Coast news, but we also include relevant state, national and international transportation news – plus other items that we just find kind of interesting! To submit items for consideration, email colin@transportationpriorities.org.