The Collector



March 11, 2022
---
Housing Is an Environmental Issue
If you're wondering why, check out this piece in the latest EcoNews edition by EPIC Executive Director Tom Wheeler and CRTP Executive Director Colin Fiske.
Eureka City Council to Talk Parking, Housing, and Land Use
Did you know that Eureka is supposed to have complete streets design guidelines, a pedestrian and bicycle master plan, and a plan for implementing car-free areas in the city? These are among the measures the city promised in its General Plan which the latest Annual Progress Report shows they have not yet accomplished. The report will be discussed at Tuesday's Council meeting, along with the ongoing downtown parking study and another annual report on housing.
A Drive-Through Moratorium in Eureka?
The idea of stopping the endless parade of what we call car-culture restaurants – at least temporarily – may be gaining momentum. We fully support the proposal for a ban or moratorium on these emissions-producing, safety-threatening, socially isolating establishments that further local reliance on cars.
Harbor District Gets Port Development Money – for Wind, not Coal
At its meeting yesterday, the Board accepted a $10.5 million grant for preparing the port for offshore wind development. CRTP fully supports offshore wind and wants to make sure that further port development comes with needed active transportation and transit improvements on the peninsula. Also at its meeting last night, the Harbor District Board adopted an ordinance prohibiting coal handling and storage, becoming the latest local government to take a stand against the efforts by shadowy corporations to take over the right-of-way for the future Great Redwood Trail and use it to export coal by rail.
Arcata Committee to Discuss Safety Solutions
In the wake of recent tragedies and many complaints from residents, the Transportation Safety Committee will discuss how to make the city's streets safer. Related items on Tuesday's agenda include discussion of a recent state law that makes it easier to lower speed limits and the city's draft complete streets policy.
People Want Walkable, Bikeable Infill Development on the Eureka Waterfront
That was the overwhelming message from those who attended last night's public meeting on waterfront planning and voted in live polls about various types of potential development in the area. Also notable is that the majority of attendees opposed more parking in each of the three sub-areas, with 40% saying there should be no new parking at all.
Revised Draft Town Center Ordinance to Be Discussed Next Week
What will be in the new version? Will there be a road diet for Central Avenue? Attend Wednesday's McKinleyville Municipal Advisory Committee meeting to find out. Also mark your calendars for April 1st and 2nd, when the county plans to hold pop-up demonstrations of streets safety improvements on Hiller and Pickett Roads.
Valley West Needs a Major Transportation Overhaul
Check out this article by CRTP Executive Director Colin Fiske and Valley West advocate Lucy Salazar to learn more.
---
Don't Forget to Make Your Reports on Street Story
Report the hazards, collisions and near-misses you've experienced on local streets, so we can use the data to make things safer in the future. Local residents have made 904 reports (and counting) on Street Story. La versión en español está disponible aquí.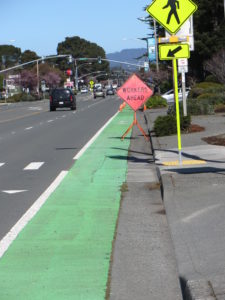 ---
Humboldt Residents Back in Their Cars – But Not Back on the Bus?
Cell phone data indicate that driving levels may be close to the pre-pandemic "normal." On the other hand, local transit ridership is still way down, perhaps due to the number of college students who still aren't attending in-person classes. But riding the bus isn't just for students. Come on, Humboldt – get on the bus!
About Those Gas Prices…
High gas prices have historically been associated with less driving and more transit ridership, both things we desperately need. But high prices also affect low-income people disproportionately, highlighting the fact that leaving it up to global markets to determine transportation incentives will not result in fair and equitable solutions.
State Funding Still Prioritizes Cars and Trucks
A telling staff report for next week's California Transportation Commission meeting reveals that two-thirds of the money from the state's main capacity-funding program is still earmarked for streets and highways, while transit and active transportation have to split the rest. In fact, the State Transportation Improvement Program (STIP) still explicitly prioritizes projects that "meet highway needs" over those that address the climate crisis.
---
The Collector is CRTP's weekly transportation news roundup, published every Friday. We focus on North Coast news, but we also include relevant state, national and international transportation news – plus other items that we just find kind of interesting! To submit items for consideration, email colin@transportationpriorities.org.