The Collector



March 18, 2022
---
Committee Is Split on Prioritizing Walking and Biking in McKinleyville Town Center
At their meeting this week, members of the McKinleyville Municipal Advisory Committee all said they supported bike and pedestrian safety, but some nevertheless continued to argue (despite overwhelming evidence to the contrary) that a Central Avenue road diet would cause unacceptable harm to local businesses and commuters. Reflecting these divisions, the Committee also asked county staff to come back to them with two versions of a town center ordinance: one that prioritizes walkability and bikeability, and one that gives developers free reign to do almost anything they want. All we can say is that next Wednesday's meeting, when they will weigh the two ordinances side by side and perhaps take a final vote on the road diet concept, will be a wild ride.
McKay Subdivision Back on Supes Agenda Next Week
The big suburban development at the edge of the Cutten will finally be voted on by Humboldt County Supervisors next Tuesday. CRTP has been requesting significant changes to reduce the project's car-dependence and climate impacts. Without those changes, we can't support the project. Keep an eye out for more information early next week.
Huffman Earmarks $5 Million for Hammond Trail Bridge Replacement
It's official: the federal budget will help the county maintain this critical active transportation link between Arcata and McKinleyville.
Humboldt Supes Approve Big Airport Investments
The investments include a new fuel tank and hangar upgrades at Murray Field – despite it being directly in the path of sea level rise – and $5.6 million for a massive increase in parking capacity at the main airport in McKinleyville. We wonder how many zero-emission airport buses or shuttles could have been put into service for the cost of all those new parking spaces.
Mark Your Calendar: McKinleyville Pop-Up Demonstrations & Community Meeting
The ongoing multi-modal planning project will have pop-up street safety demonstrations and another public meeting in the next few weeks. En español aquí.
---
Don't Forget to Make Your Reports on Street Story
Report the hazards, collisions and near-misses you've experienced on local streets, so we can use the data to make things safer in the future. Local residents have made 906 reports (and counting) on Street Story. La versión en español está disponible aquí.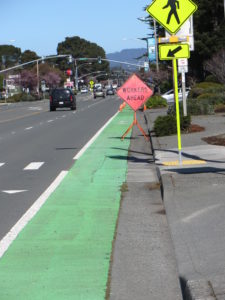 ---
Yup, There Really Is Plenty of Parking in Downtown Eureka
Believe it or not, it's there.
Support Grows for Banning New Car Culture Restaurants
Drive-throughs are bad for many reasons.
Lots of Cool Transportation Bills in State Legislature
Several good bills that were vetoed by the governor last session are back in modified form, as well as some exciting new ones.
Will New Car Safety Ratings Consider Pedestrians?
The federal government's new ratings system will likely incorporate high-tech devices that help detect pedestrians – but won't address the root cause of growing pedestrian danger, namely bigger and bigger vehicles.
Mining the Sea Floor to Feed Our Car Addiction
Add it to the long list of reasons that electric vehicles won't solve all our problems.
Could High Gas Prices Spur Investment in Alternatives?
It's happened before. But chances this time seem somewhat diminished by the rush of legislators to address the symptom rather than the problem.
---
The Collector is CRTP's weekly transportation news roundup, published every Friday. We focus on North Coast news, but we also include relevant state, national and international transportation news – plus other items that we just find kind of interesting! To submit items for consideration, email colin@transportationpriorities.org.