The Collector



March 25, 2022
---
Supervisors Approve McKay Subdivision with New Condition
The developer and the majority of Humboldt County Supervisors refused to make even minor modifications to the project to reduce climate-harming emissions. But they did agree that the money set aside for traffic lights could be used instead for bike and pedestrian safety improvements – a small but important change.
Join Us for a Webinar on the Principles of Good Infill Development
Register now for our April 7th webinar with Dan Zack, a long-time urban planner with experience in cities and towns in the Bay Area and the Central Valley that will help shed light on local efforts toward infill development in Eureka, Arcata and McKinleyville.
Person Killed by Driver While Biking on Herrick Avenue
Yet another tragedy brings more grief to our community. At a wide intersection like this, dominated by speeding cars, with no infrastructure for people walking or biking, this kind of thing is infuriatingly predictable. Unfortunately, the information released by police promotes the narrative that the victim was at fault, despite that person no longer being with us to tell their side of the story.
McKinleyville Town Center Decisions Still in the Future
The McKinleyville Municipal Advisory Committee did not reach a decision on either the town center ordinance or the proposed Central Avenue road diet this week. Once again, committee members seemed split down the middle on both issues.
Crescent City Requests Funding for Road Diet
At a Technical Advisory Committee meeting next week, Crescent City will request $400,000 from the Del Norte Local Transportation Commission to reconstruct Front Street – a project that will include reducing the number of lanes from 4 to 2. If Crescent City can implement a road diet, surely McKinleyville can do it too.
Indianola Interchange Designs Expected Soon
In the face of cost overruns, Caltrans is promising that bike and pedestrian infrastructure will remain part of the project.
Eureka City Council to Hold Visioning Session
Let's hope their vision is for a safe, walkable, transit-rich, people-friendly city.
---
Don't Forget to Make Your Reports on Street Story
Report the hazards, collisions and near-misses you've experienced on local streets, so we can use the data to make things safer in the future. Local residents have made 907 reports (and counting) on Street Story. La versión en español está disponible aquí.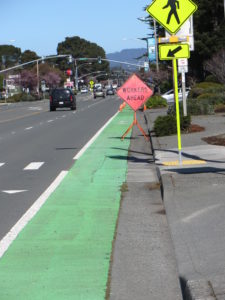 ---
Cal Poly Humboldt Still Planning to Add Parking Structures
Mind-bogglingly, the university wants to spend millions of dollars to lock itself into car dependence at a time it is publicly re-dedicating itself to fighting the climate crisis.
It's Past Time to End Costly Parking Mandates
Even Redding has eliminated parking minimums downtown. What are Humboldt County governments waiting for?
Another Reason to Stop Making Bigger Cars
A new study shows that due to poor visibility, they're much more likely to hit people who are walking.
Here's How We Should Be Responding to High Gas Prices
Invest in other forms of transportation and buy back people's old cars.
Want to Know About Crashes Involving Self-Driving Vehicle Tests on Public Roads?
The State of California won't tell you.
---
The Collector is CRTP's weekly transportation news roundup, published every Friday. We focus on North Coast news, but we also include relevant state, national and international transportation news – plus other items that we just find kind of interesting! To submit items for consideration, email colin@transportationpriorities.org.