The Collector



April 1, 2022
---
"Where's the CAP?"
Public release of the Climate Action Plan under joint development by Humboldt County and its incorporated cities has been delayed over and over again. With the climate crisis already upon us, there's no time to waste in reducing our greenhouse gas emissions and vehicle miles traveled. So what are our local governments waiting for?
Don't Forget to Register for Next Week's Webinar!
Next Thursday, CRTP is sponsoring Dan Zack, a long-time urban planner with experience in cities and towns in the Bay Area and the Central Valley, for a talk on "The Principles of Good Infill Development."
Electric Vehicles Will Not Save Us
Read CRTP Executive Director Colin Fiske's article in the latest EcoNews to find out why.
The Promise and Challenge of E-Bikes
At a meeting next week, a Humboldt County Association of Governments Committee will hear a request to form an ad hoc working group on e-bikes. Local trail managers are apparently concerned about increasing conflicts between faster e-bikes and slow-moving pedestrians. CRTP has been saying for years that walking and biking are not the same, and local trail designers need to provide appropriate space for each rather than assuming they will mix freely with no problems.
Today and Tomorrow: Pop-Up Bike and Pedestrian Improvements in McKinleyville
From 3:30-6:30 pm on Friday and 9:30 am – 12:30 pm on Saturday, you can experience a temporary demonstration of potential improvements to Hiller Road near Central Avenue. Información en español aquí.
Eureka City Council to Hear Presentation from Bird Scooters
Will Eureka become the second local city to welcome a scooter sharing system? (For those not keeping score, Fortuna was the first.)
---
Make Your Reports on Street Story
Local advocates and agencies use your reports of the hazards, collisions and near-misses you've experienced on local streets to help make the case for safety projects. Local residents have made 909 reports so far. La versión en español está disponible aquí.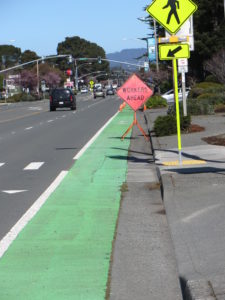 ---
Tired of Waiting for a Crosswalk in Your Neighborhood?
Maybe you should try painting one yourself.
State Housing, Transportation and Air Pollution Agencies to Hold Joint Meeting
The next joint meeting between the Departments of Housing and Community Development, the Transportation Commission, and the Air Resources Board will be held next Thursday. These meetings are always a good place to find out what these state agencies with strong influence over our built environment are thinking about key issues.
Big Batch of Bike Bills Voted Out of Committee
Similar bills in past sessions have taken a lot of work to move forward, but this time the Assembly is moving quickly.
Advocates Ask for More Transit Money in State Budget
Public transit operators are still facing major challenges due to lost ridership during the pandemic.
Senator Padilla Introduces Major Housing Bill
The bill is focused on housing affordability, but it also includes provisions to support safe parking programs and "inclusive, transit-oriented development and infill development."
---
The Collector is CRTP's weekly transportation news roundup, published every Friday. We focus on North Coast news, but we also include relevant state, national and international transportation news – plus other items that we just find kind of interesting! To submit items for consideration, email colin@transportationpriorities.org.