The Collector



December 3, 2021
---
Committee to Consider McKinleyville Town Center Ordinance
The McKinleyville Municipal Advisory Committee will meet next Wednesday to consider the draft ordinance, which has been years in the making. A memo released by the Humboldt County Planning Department, summarizing public input, shows both strong support as well as some resistance to the idea of a dense, mixed-use, walkable town center – so if you want to see more alternatives to driving in our third-largest community, you'll need to show up and voice support!
Join CRTP Today!
CRTP is in the middle of our annual membership drive right now. If you're not already a CRTP member, what's holding you back? Click on the link above and join today.
Arcata "Gateway Area Plan" Released
The City of Arcata released a draft plan this week to rezone a large chunk of the city – mostly in the Creamery District – for high-density, mixed-use, pedestrian-oriented development. You can attend a city meeting next Thursday at 5:30 pm to get more information and provide input, and stay tuned for more details from CRTP.
Coal and More on Eureka City Council Agenda
At its meeting next Tuesday, the Council will take a final vote to adopt its new anti-coal ordinance in response to the threat of coal trains to the North Coast. Also on the agenda: selecting a consultant to develop a plan for higher-density mixed-use development on the waterfront, approving a spending plan (including road spending) for COVID stimulus funds, and selling naming rights for a city park concession stand to Valley Pacific (a company that owns gas stations).
Provide Your Input on Eureka Parking Plan
Fill out the survey and let the city know that it should reduce the amount of parking and prioritize walkability, bikability, and transit.
Old Arcata Road Project Delayed
An error in the environmental review process meant that the City Council did not vote on the project as planned this week. CRTP strongly supports new bike and pedestrian infrastructure and traffic calming on Old Arcata Road. We have some reservations about the use of roundabouts, which although they force traffic to go slower (a very good thing!), also increase conflict points for people biking and are impossible to use for pedestrians with blindness and low vision.
McGuire Provides Great Redwood Trail Updates
State funding is starting to flow, and trail master planning will begin early next year.
---
Don't Forget to Make Your Reports on Street Story
Report the hazards, collisions and near-misses you've experienced on local streets, so we can use the data to make things safer in the future. Local residents have made 858 reports (and counting) on Street Story. La versión en español está disponible aquí.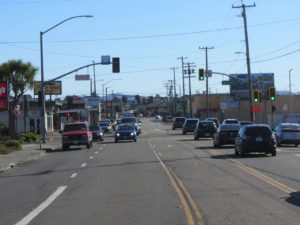 ---
Humboldt Sheriff's Deputy Crashes in High-Speed Chases
High-speed police chases often stem from minor alleged violations – like this one did – and often result in injuries or fatalities. Why are they still a thing?
State Workshop Next Week on Building Sustainable and Equitable Communities
Want to learn about and provide input on the state's efforts to create more equitable communities with less driving and more housing? Sign up for this workshop put on by the California Air Resources Board.
Walkable Communities Are Expensive Because There Aren't Enough of Them
There's nothing inherently expensive about walkability. In fact, it's a lot cheaper to build walkable communities than suburban sprawl.
Advocates Ask for $2 Billion for Active Transportation
There is a $31 billion state budget surplus, after all. Meanwhile, in the absence of good walking and biking infrastructure in disadvantaged communities, police continue to show bias in traffic enforcement.
What If We Couldn't Identify Disadvantaged Communities?
The Census Bureau is proposing to limit the availability of a lot of demographic and housing data to the county level, which would make it basically useless for differentiating local communities.
---
The Collector is CRTP's weekly transportation news roundup, published every Friday. We focus on North Coast news, but we also include relevant state, national and international transportation news – plus other items that we just find kind of interesting! To submit items for consideration, email colin@transportationpriorities.org.