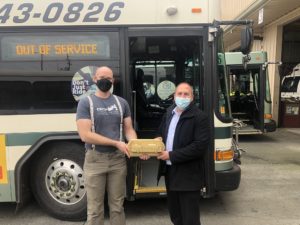 HTA General Manager Greg Pratt receives the "golden bus" 2021 Responsible Transportation Champion award from CRTP Executive Director Colin Fiske.
---
The Coalition for Responsible Transportation Priorities (CRTP) has named Humboldt Transit Authority (HTA) General Manager Greg Pratt the 2021 North Coast Responsible Transportation Champion. Pratt is being recognized for his remarkable efforts to keep public transportation running in Humboldt County throughout the COVID-19 pandemic, while at the same time preparing for a rapid transition to zero-emission buses and initiating work on a much-needed downtown Eureka transit hub.
"HTA oversees almost all of the public transit in Humboldt County, and Greg has done an incredible job at the helm for many years," said CRTP Executive Director Colin Fiske. "Even with all of his accomplishments and many years of service, though, nothing could have prepared him for the last couple of years. Running an effective public transit system during a global pandemic is a near-impossible task, but Greg has somehow managed it. Not only that, but at the same time he has been working behind the scenes to plan for long-term transit improvements, like a major hub in downtown Eureka, and to ensure that our local bus fleet hits zero-emission targets ahead of schedule."
"HTA is in the process of applying to the state for a grant that will replace 10 diesel buses with 10 zero-emission buses," Pratt said, "effectively removing 600,000 miles per year of greenhouse gas emissions in Humboldt County. And that's only the beginning."
The North Coast Responsible Transportation Champion award is given each year to a leader who furthers CRTP's mission of "promoting transportation solutions that protect and support a healthy environment, healthy people, healthy communities and a healthy economy on the North Coast." Past recipients include State Senator Mike McGuire, former McKinleyville Community Services District Director Mary Burke, and former Humboldt County Association of Governments Executive Director Marcella May.
Fiske added: "We sorely need more investment in our transit system from federal, state and local governments. But Greg's ability to guide HTA in providing service to our huge county with the few resources currently available is truly remarkable. He richly deserves recognition as the 2021 Responsible Transportation Champion."