The Collector
April 19, 2019
---
The Village Will Be Built…We Think
The Arcata City Council finally approved the biggest infill housing project in the city's history, but not before capping the number of beds at a much lower number than originally proposed. Word on the street is that the developer is going ahead with the project regardless of the restrictions.
County Planning Commission Opens the Door to Lower Parking Requirements
The City of Arcata got rid of parking requirements for downtown development years ago. The City of Eureka's new proposed zoning code will dramatically reduce its requirements. And last night, the Humboldt County Planning Commission – at the urging of CRTP – recommended a change to the zoning code that would allow local community plans to reduce parking requirements in town center areas like McKinleyville's. Pedestrian-oriented streetscapes may finally be within reach!
Plaza Discussions Heat Up
Both the Arcata Plaza Improvement Task Force and its Transportation Safety Committee talked a lot about the Plaza at meetings this week. CRTP continues to advocate for partial pedestrianization, and the North Coast Growers Association is proposing partial street closures on 8th & 9th Streets for their farmers markets this season. Meanwhile, a few worried business owners are mobilizing to oppose any reduction in car driving or parking.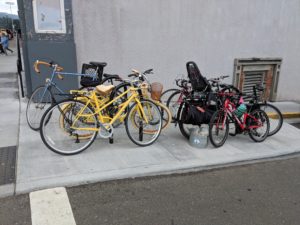 Public Meeting on 101 Corridor Project Scheduled
The last the public had a good look at this project was 5 years ago. Now, they're scheduled to ask the Coastal Commission for approval in San Diego in June, and they're holding this local meeting next Tuesday (at the Commission's request) to get more local input.
Annie & Mary Trail Events Next Week
The City of Arcata will be hosting another workshop on plans for its portion of the proposed Annie & Mary Trail on Tuesday, April 23, at 5:30pm at the Hampton Inn in Valley West. Before that, on Monday from noon to 6pm, there will be a pop-up demonstration of trail design ideas near the skate park on Sunset Ave.
Take the Local Mobility-on-Demand Survey!
And come to workshops on May 1 & 2 to have your voice heard.
Supes Agree: No Measure Z Road Funding
Funding maintenance and repair of our extensive road network remains a long-term challenge – one that seems increasingly unsolvable.
Pedal to the Pancakes!
A group ride to a Moose lodge Swedish pancake breakfast is scheduled for this Sunday – a prelude to Bike Month.
"Streets for All" Coalition Founded
Bike, scooter and pedestrian advocates team up.
Scooter Solutions?
San Francisco was one of the first cities to experience a proliferation of e-scooters, and one of the first to experience the backlash. Now, a one-year pilot program to regulate them is being called a success.
Lessons from Barcelona's "Superblock" Experiments
Cities around the world are watching closely. Just think of the block parties!
Freeways Without Futures
The Congress for the New Urbanism released the list, which includes I-980 in Oakland and I-5 in Portland. Meanwhile, the online environmental publication Grist takes a deep dive into the history of I-980 and the new attempts to tear it down.
---
The Collector is CRTP's weekly transportation news roundup, published every Friday. We focus on North Coast news, but we also include relevant state, national and international transportation news – plus other items that we just find kind of interesting! To submit items for consideration, email colin@transportationpriorities.org.