The Collector
April 26, 2019
---
May is Bike Month!
Check out the extensive schedule of local events. And don't forget to sign up for the Bike Month Challenge.
New Eureka Zoning Code Moves to Council
The first major code overhaul in half a century would create a lot of new opportunities for less car-oriented infill development.
Neighbors Complain of Flooding on Proposed Bike Routes
No, the neighbors didn't mention that they're proposed bike routes. Neither did the City. But read the latest Regional Bicycle Plan, and you'll see that both Wabash and G Street are designated as future Class III bike routes – adding a twist to this citizens-vs-city-hall story.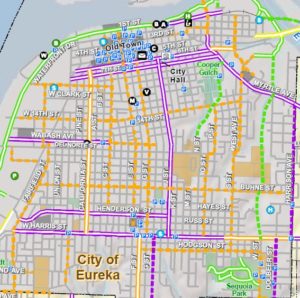 Local Trails Summit Next Saturday
Mark your calendar.
Bike Rider Hit by SUV on Highway 101
Fortunately, she is reported to have received only minor injuries.
Full Speed Ahead for Car-Culture Restaurant in Eureka
Oops, we meant "fast food."
Caltrans Complete Streets Bill Gutted, then Passed
After removing the requirement that Caltrans update streets with bike and pedestrian infrastructure whenever it does major rehabilitation or repair work, as well as most of the other more innovative provisions, the Senate Transportation Committee passed SB 127. Still, there may be some elements left worth fighting for. This article includes commentary from CRTP Executive Director Colin Fiske about the bill's local applicability. Meanwhile, the Committee also passed SB 44, the bill intended to drastically reduce pollution from diesel trucks, after removing its most ambitious targets.
Have Some Pizza and Beer for the Humboldt Trails Council!
What could be better than pizza and beer for a good cause?
Another Car is Weaponized Against Pedestrians
Disturbingly, this seems to be a new trend.
Trump Administration Funding More New Roads, Less of Everything Else
A new analysis shows that a long-time major federal funding program for multimodal infrastructure has shifted dramatically toward funding more new road capacity – and fewer complete streets projects – since Trump took office.
Chalking Tires Unconstitutional…in the Midwest
The parking enforcement tool is still perfectly legal in California, at least for now.
Drone Delivery Program Approved
The first one in the US will start soon in Virginia.
---
The Collector is CRTP's weekly transportation news roundup, published every Friday. We focus on North Coast news, but we also include relevant state, national and international transportation news – plus other items that we just find kind of interesting! To submit items for consideration, email colin@transportationpriorities.org.