The Collector
November 16, 2018
Special Note: We'll be taking next week off for the Thanksgiving holiday, so your next edition of The Collector won't arrive until November 30th.
---
Caltrans 4th Street Project Gets City Approval
As we reported a few weeks ago, the City of Eureka has been considering a Coastal Development Permit request from Caltrans for a project which would add an extra lane to part of 4th Street. Although there are some genuine pedestrian safety improvements included in the project, including traffic-calming bulb-outs and a new traffic signal at L Street, the problems associated with adding an extra lane caused us to oppose the project. Unfortunately, this Tuesday, the City approved the project's permit. This is the last official opportunity for public input on the project, which is now slated to begin construction in 2020.
HCAOG Board Weighs Regional Housing Needs
At its Board meeting on Thursday, the Humboldt County Association of Governments took public comment on its proposed methodology for allocating new housing requirements among all of its member jurisdictions (a state-mandated process). HCAOG's current proposal is to divide the total amount according to a combination of the number of residents and the number of jobs each jurisdiction holds, weighted equally. CRTP delivered the only public comment at the hearing and urged the Board to weight jobs more heavily in the formula. As we explained, putting homes next to jobs is one of the best ways to reduce vehicle miles traveled! Thanks to a request from HCAOG Board member (and Eureka City Councilmember) Natalie Arroyo, the Board will consider a formula that weights jobs more heavily at their next meeting on December 20th.
Eureka City Council Approves $450,000 Stop Light
At a special meeting on Wednesday, the Council unanimously approved paying for the expensive traffic signal on Broadway in order to allow a proposed fast food development to proceed.
Bike Lane Obstruction of the Week: Open House, Closed Lane
Apparently some local realtors don't realize that you can't block a bike lane. Send your pictures of bike lane or sidewalk obstructions to colin@transportationpriorities.org.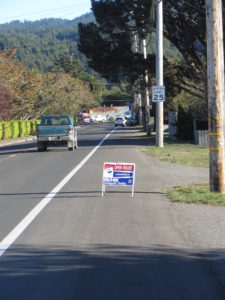 Detectable Warning Surfaces
Ever wonder about those bumpy yellow things often found on sidewalk ramps? Here's your chance to find out more.
---
The Collector is CRTP's weekly transportation news roundup, published every Friday. We focus on North Coast news, but we also include relevant state, national and international transportation news – plus other items that we just find kind of interesting! To submit items for consideration, email colin@transportationpriorities.org.