The Collector



October 28, 2022
---
VOTE FOR CRTP!
If you're a North Coast Co-op member, please click the link above right now to vote for CRTP in next year's Seeds for Change register round-up program. Funds raised from this program can be a critical source of support for a small organization like us. (Also, don't forget to vote in those other elections, too.)
A Week of Tragedies
Sunday evening, Rio Dell resident Donald Ferguson was killed by the driver of a pick-up truck while biking on Highway 101 in southern Eureka. Early Wednesday morning, an unnamed person was killed by a driver while walking in Arcata's Valley West neighborhood. Our condolences go out to the family and friends of both of the victims.
Nationwide, pedestrian deaths are increasing sharply. These tragedies are allowed to happen because we have designed roadways for speed over safety. It doesn't have to be this way. Listen to the latest episode of the EcoNews Report about getting to zero traffic deaths, and attend a public meeting in Arcata next Wednesday to tell the city you want its Local Road Safety Plan to actually make the roads safe for everybody – even if it means some inconvenience for drivers.
Key Decisions for Local Housing
As CRTP Board Member Tom Wheeler argues in an op-ed in the Times-Standard, it's time to prioritize affordable infill housing over parking lots. What it's not time for is more sprawl, like the project proposed in Indianola by local billionaire Rob Arkley. Housing built in a place where you need a car is not housing that's available for many people with disabilities, people with low incomes, older people, and people who choose not to drive for other reasons. It's also not great for kids (who can't drive) or their parents (who have to drive them everywhere).
Arkley's project is expected to have its first appearance before the Humboldt County Board of Supervisors at their meeting next week, where Supervisors could end the project before it gets any further or could vote to spend a lot of time and money on staff time and studies.
There are also two meetings next week where you can weigh in on Cal Poly Humboldt's plans for student housing and other campus-related infrastructure. Or just take the survey. Let's encourage the university to keep it walkable and stop doubling down on cars. In other words, let's tell them to invest in bike and pedestrian safety and on-campus housing, and forget about their five-story parking structure boondoggles!
Great Redwood Trail Plan Website Unveiled
Check out maps, take the survey, and weigh in on the future of one of the nation's most ambitious trail projects.
---
Please report road hazards, near misses and collisions on Street Story.
Your reports can save lives by helping us – and Caltrans and local governments – identify where safety improvements are needed before a tragedy occurs. La versión de Street Story en español está disponible aquí.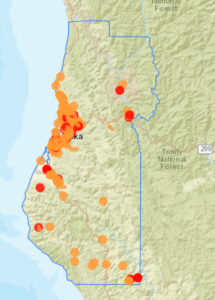 ---
News from Beyond the North Coast
Why Are California Lawmakers So Hostile Toward Scooters?
A new law will make it much harder to operate a scooter-share system, and may not bode well for bikeshare systems either.
Secretary Pete Is Upset About Traffic Violence
US Transportation Secretary Pete Buttigieg isn't pulling his punches when it comes to the carnage on our roads, referring to "murderous" drivers in a recent interview. But his proposed solution – self-driving cars – isn't really going to work either.
---
The Collector is CRTP's weekly transportation news roundup, published every Friday. We focus on North Coast news, but we also include relevant state, national and international transportation news – plus other items that we just find kind of interesting! To submit items for consideration, email colin@transportationpriorities.org.